It's been a momentous few weeks for pubs, bars and restaurants across England following the reopening of outdoor hospitality on April 12th. Like-for-like drink sales were up by a whopping 110% on the first day of trading compared with the same day in 2019, as the industry begins its road to recovery after a very difficult year.
However, with just 38% of pubs, bars and restaurants in Britain having designated outdoor space, pavement licenses, for a maximum fee of £100, are enabling many more hospitality businesses to reopen safely for outdoor eating and drinking than would have been otherwise possible.
Cities and towns up and down the country have been enjoying a high street revival with tables and chairs spilling out on to new pedestrianised zones, where customers can feel comfortable and safe to enjoy a meal or a few drinks outside.
After initially being valid until the end of September 2021, the Government has since confirmed that pavement licenses will be extended for a further 12 months until 30th September 2022 to better support the industry's recovery.
More than 60 streets in central London including areas of Soho and Carnaby Street have now become home to hundreds of alfresco dining spaces, thanks to temporary road closures and pavement widening measures to allow for outdoor restaurant and bar seating in the street.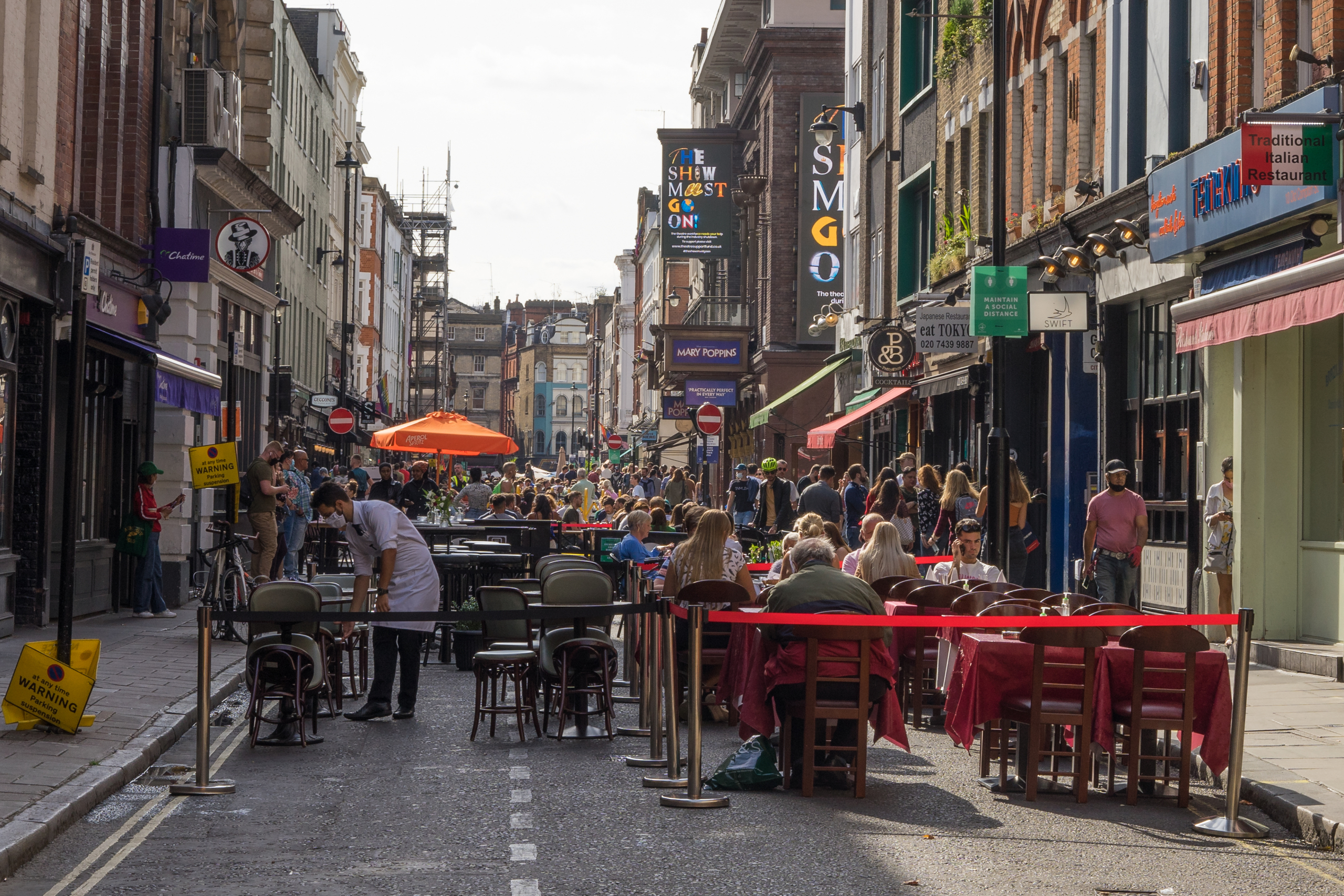 Elsewhere, Manchester is waiving the £100 fee for a pavement license and is pedestrianising areas including the Northern Quarter, Ancoats and Deansgate. The city's much-loved Corn Exchange has witnessed a surge in European-style café culture as restaurants including Indian street food eatery and Food Alert client, Mowgli, have re-opened for Mancunian's to grab a bite, share a glass and enjoy the spring sunshine.
In Birmingham's Jewellery Quarter, parking bays have been utilised in a bid to help struggling pubs and restaurants as they emerge from lockdown. The city's famous Victoria Square is now home to beach huts for food and drink vendors featuring 120 seats for outdoor dining.
For any business with a pavement license or looking to obtain one, there are many COVID-19 caveats in place to ensure outdoor hospitality is safe for everyone.
Some of the key ones to bear in mind include:
Customers must order, eat and drink while seated at a table
When being shown to a table, or going to the toilet – customers must wear face coverings (unless exempt) and observe social distancing
They must follow the rule of six, or be in a group of any size from two households only
Every customer aged 16 and over must check in with NHS test and trace, or provide contact details
Contactless payments should be used where possible
More information and guidance on Pavement Licenses can be found on the Government website here. Businesses can apply via your local council, with the consultation and determination period taking up to 10 working-days.
For full guidance to support you through reopening, download Food Alert's comprehensive Reopening Guide here, including advice on risk assessments, enhanced hygiene measures, wearing of face coverings and much more.