Food Alert
/
Due diligence in the palm of your hand
Due diligence in the palm of your hand
The innovative hospitality checklist app created by industry experts, supported by Alert65.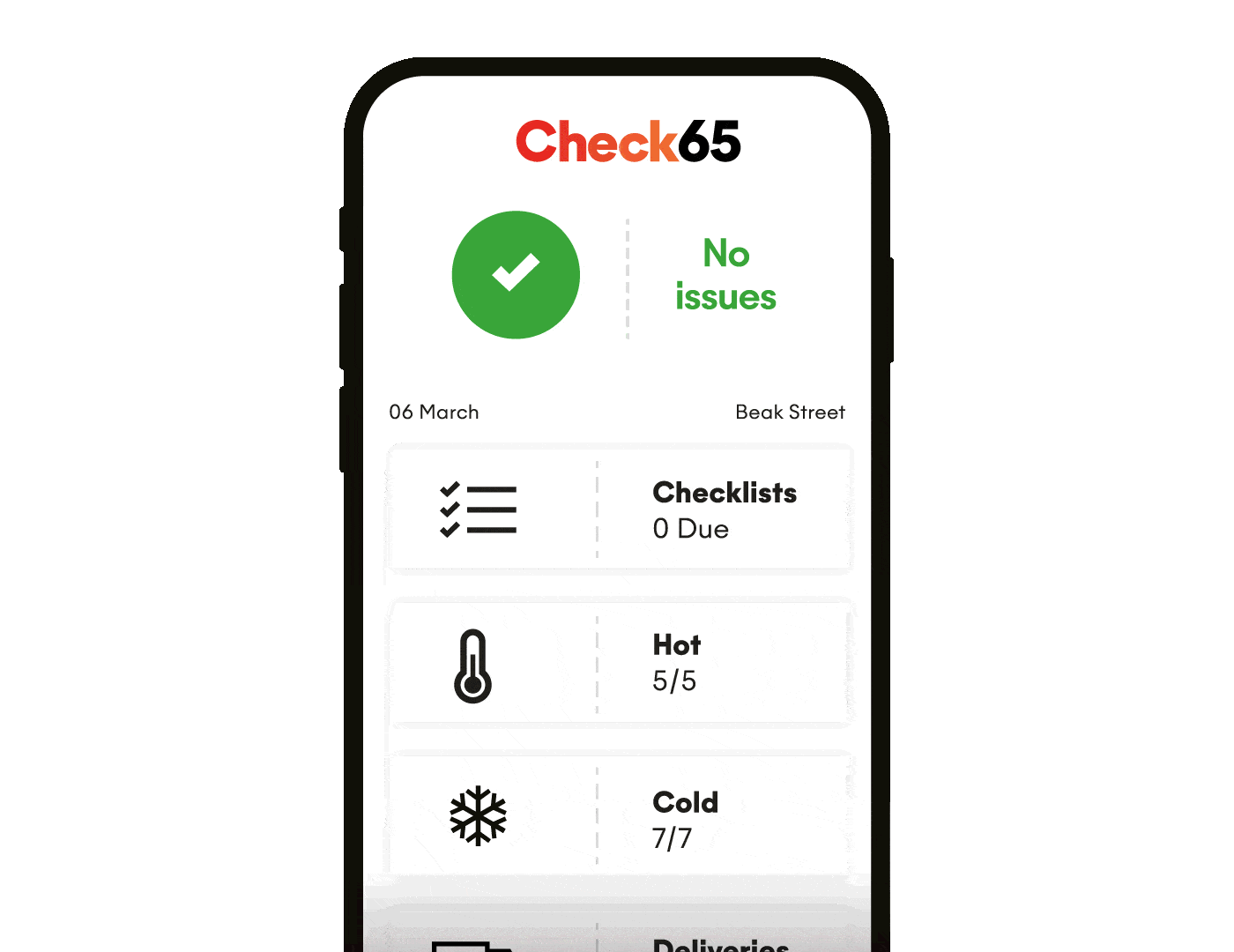 Focus on compliance not paperwork!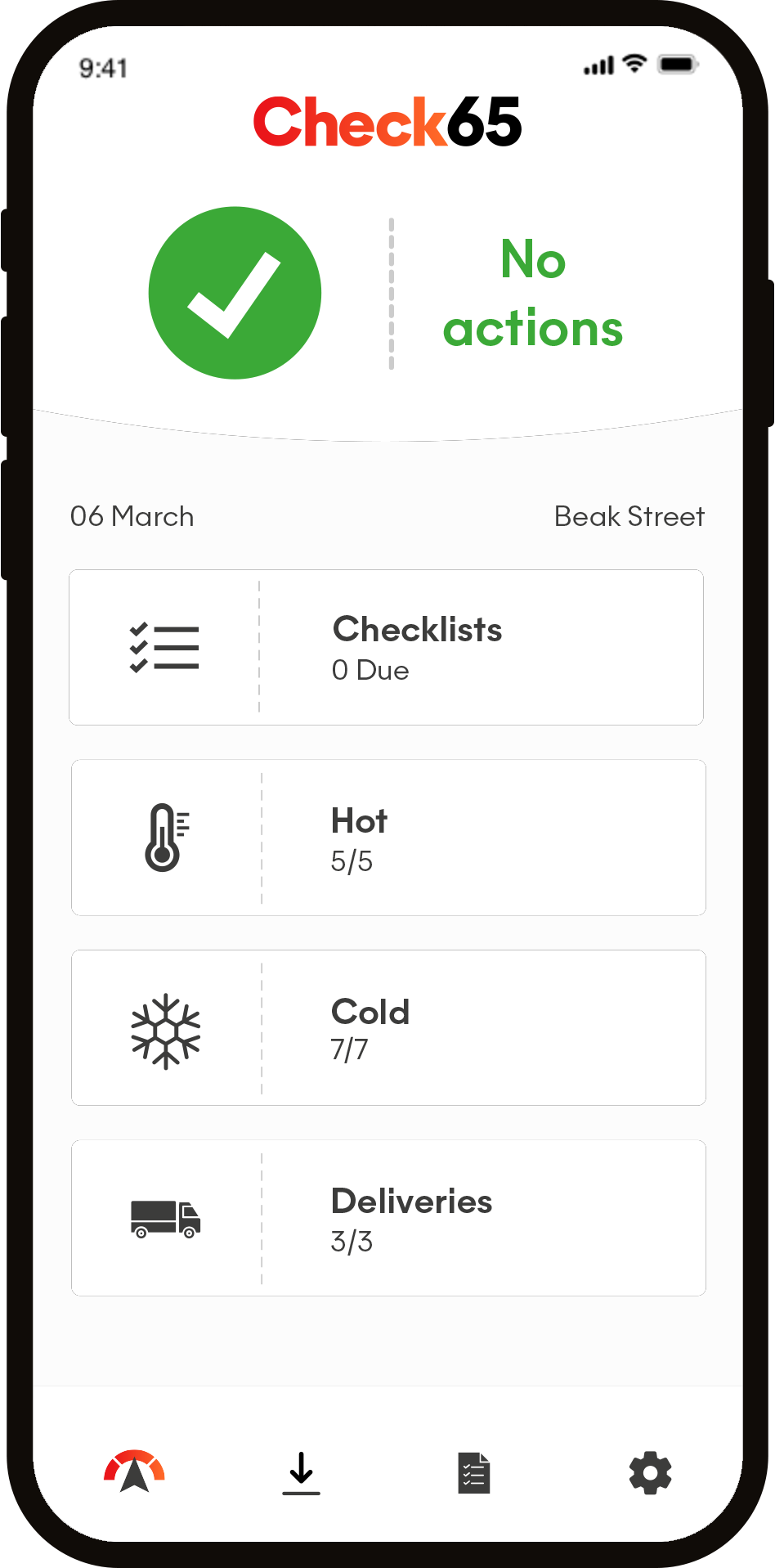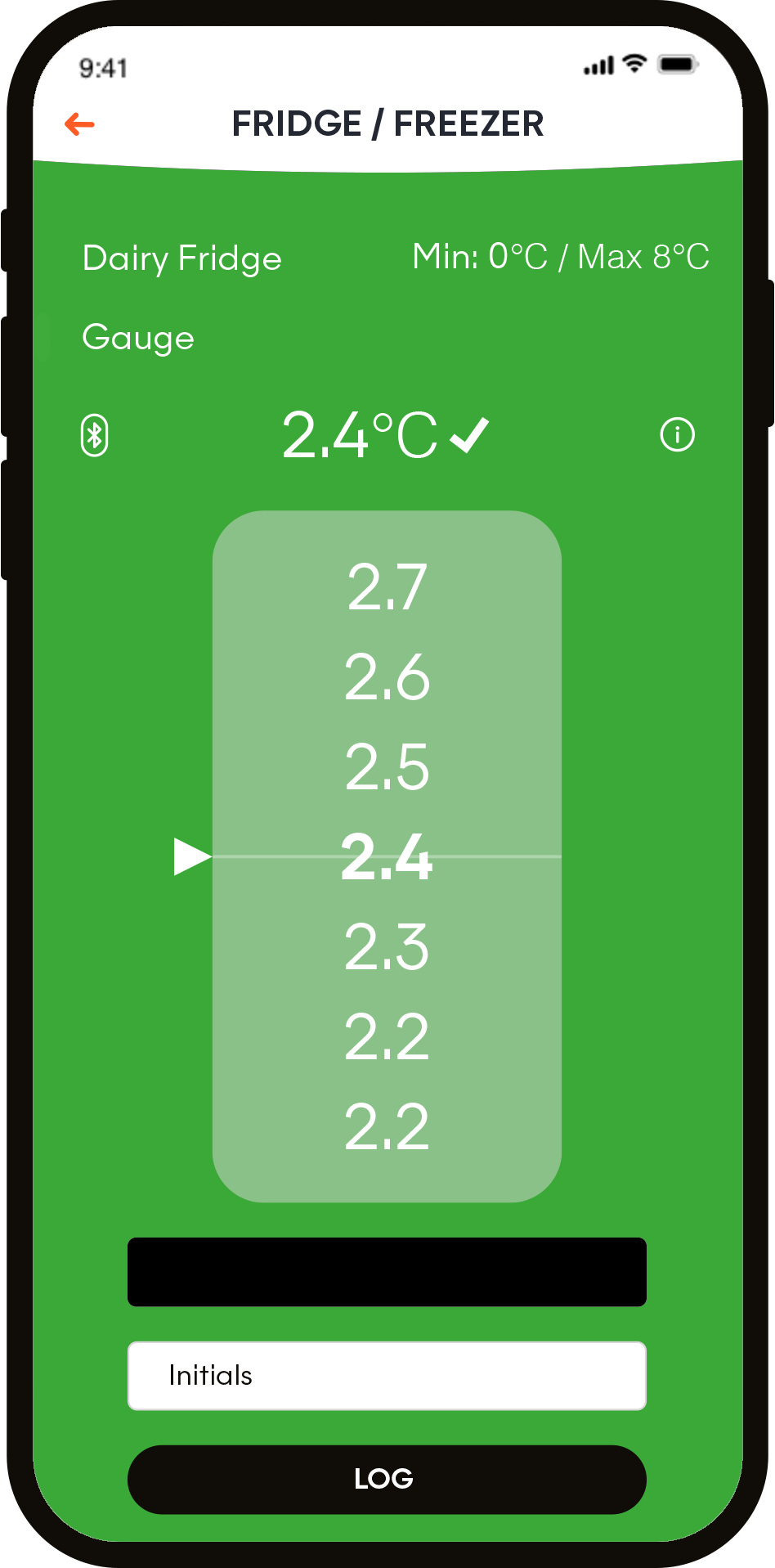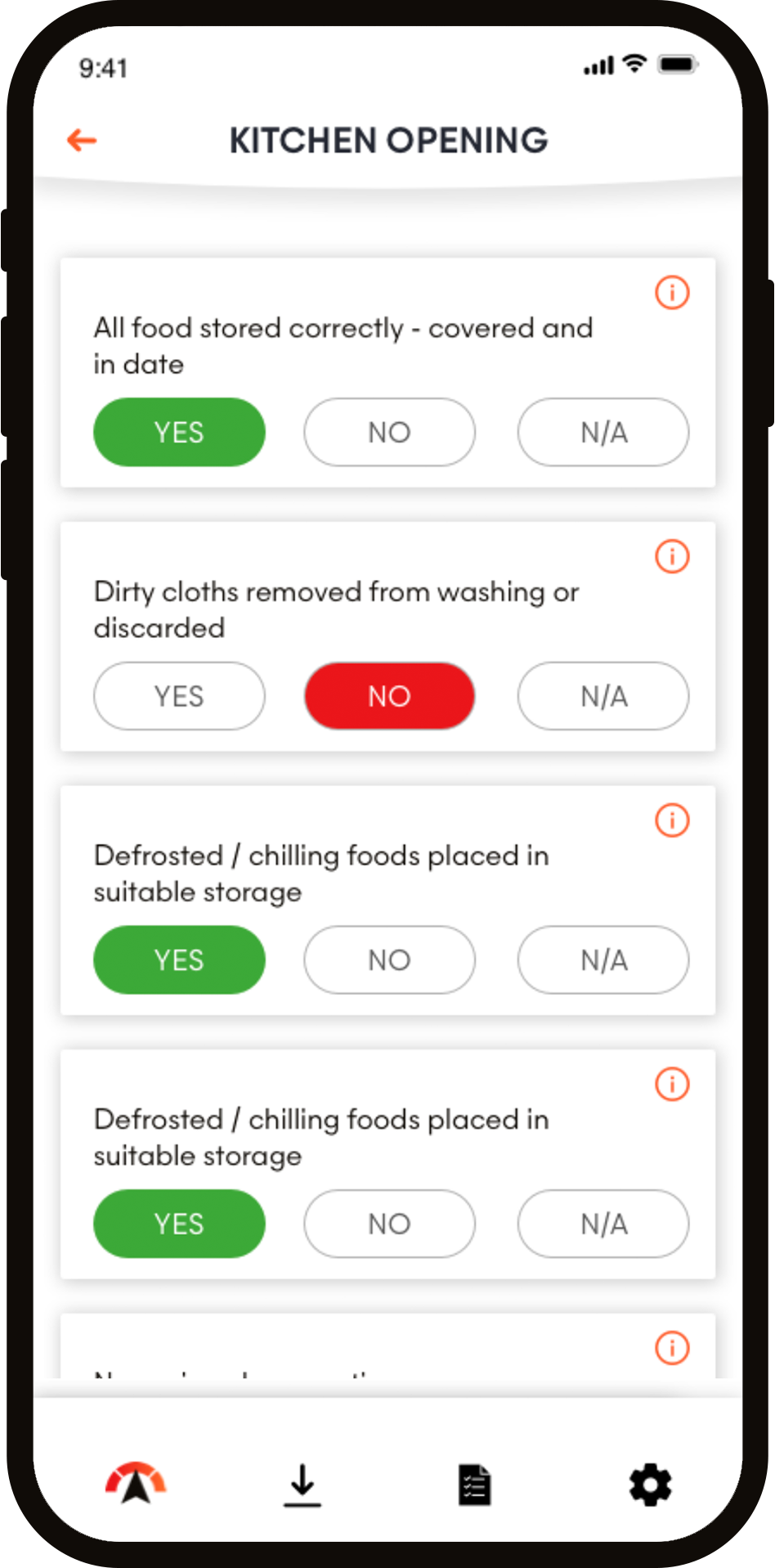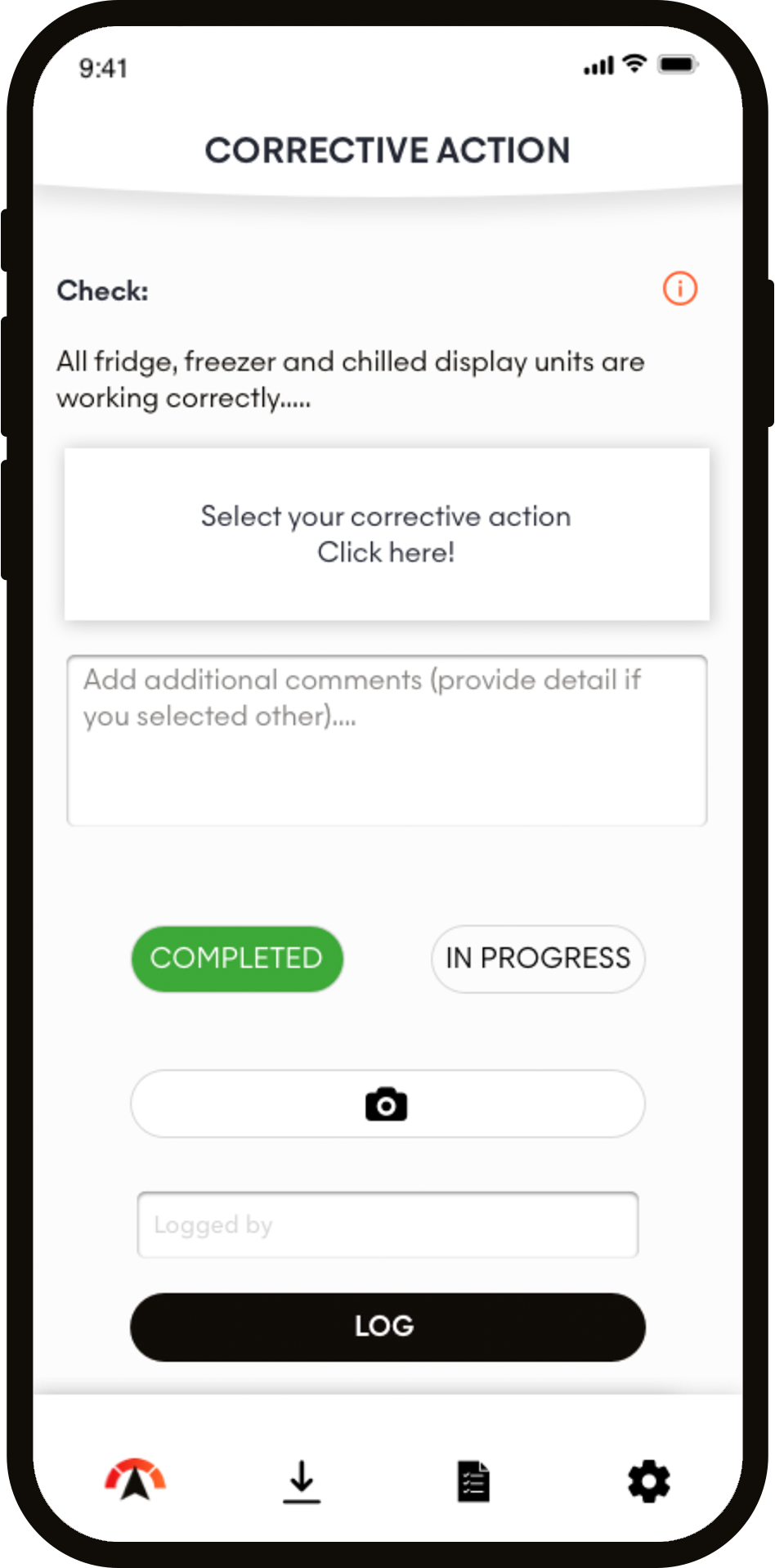 Get the right people on the right jobs
Maximise efficiency by replicating your organisational structure within Check65 – from regions and sites to departments and users. Once you're set up, you can make sure you have the right people on the right jobs, for ultimate cohesion and productivity.

Keep everything on schedule
From daily tasks like opening checks and team briefings, to one-off or seasonal occurrences like menu changes or promotions – Check65 keeps your team and your business on time and on schedule. This way, you can improve visibility, efficiency and accountability.

Make simple-to-follow tasks
Team Members are able to complete daily 'due diligence' and operational checks through an easy-to-use interface. From opening checks to seasonal occurrences, Check65 provides complete real time visibility and progress.

Track and resolve any problems that arise
Should an issue pop up in your business, Check65 allows your team to capture any corrective actions they have implemented to mitigate the problem.
Protect your business with Check65
Create an accurate digital record
Removing the reliance on paper trails brings a whole host of benefits – including improved accuracy, time efficiency and reliability, all whilst making a positive impact on the environment.
Complete visibility of business risk
Check65 allows complete visibility of any risks across your entire business – whether you're a single site or multi-site operator. By flagging issues and providing advice along the way, Check65 removes the reliance on pre-existing knowledge.
Benefit from smart reporting and dashboards
Check65 creates dashboards and reports to give you total visibility across all your sites. You can either download reports or connect to your own Business Intelligence system.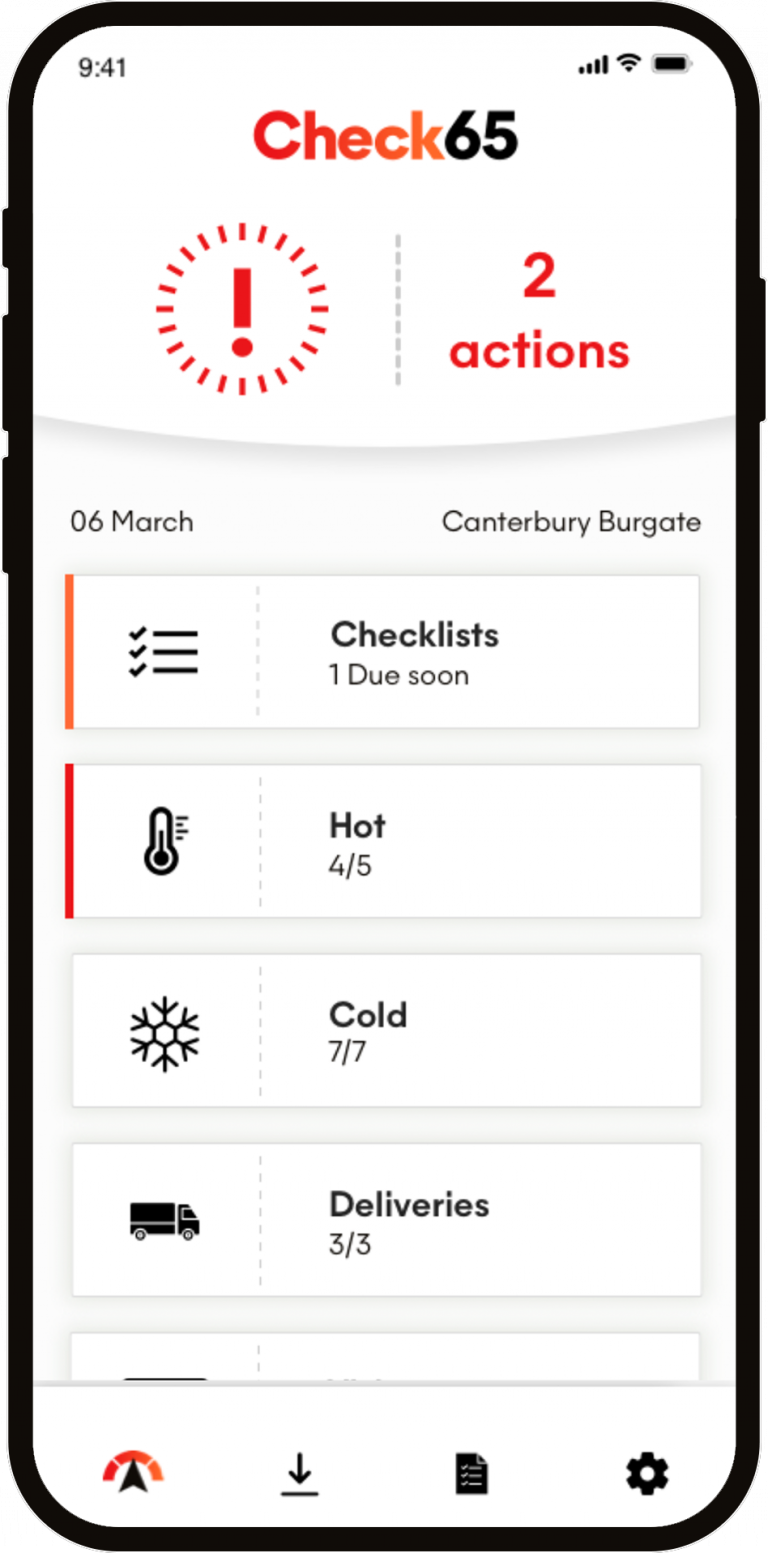 Key functionalities
Visibility tailored to you
Smart dashboard so you can get live performance insights, allowing you and your team to focus your attention where its needed most.
Real-time task updates
Tasks are clearly displayed by status and in chronological order, with traceability of users completing all checks. You can also disable checks for the day when you need to (e.g., for a closure or refurbishment).
Compatible with international time zones
Assign checklists for completion across the world.
Easy digital recording
Record all key information in one place, including food delivery checks, 'cold' food checks (fridge/freezer/cold holding/cooling/ambient), 'hot' food checks (cook/reheat/hot hold), and visitor details.
Drill down into key details
Specify everything you need, including products and menu items to be checked, the frequency/timings of checks to be completed, and the departments within your organisation. You can also create products and menu items with specific temperature parameters, and departmental checklists viewable by specific teams.
Make the switch to Check65
Leave your details below and a member of our team will be in touch shortly!
Discover just how our services can help your business
Do you want to find out what we have to offer and how our services can help transform your business? Just click the button to contact us and our team will guide you through exactly what we can offer.