Food Alert's technical director, Julia Wilson, has conducted hundreds of audits and inspections in her career to make sure hospitality venues are fully compliant at all times and more than ready for those 'surprise' visits from an Environmental Health Officer (EHO) or Food Safety Officer (FSO).  Here she shares her insight and top tips on how to achieve a 5 star hygiene rating. 
Pop your details in the form to download our full guide on 'How to get the perfect score on your door' including useful checklist!
1. First impressions count
A good inspector will be able tell within minutes how professional and well run a venue is from the way they are greeted.  Staff should greet the visitor warmly and ask to see formal identification. Remember they can visit your business at any reasonable time so being busy is not an excuse to turn them away!   Always be professional, attentive and helpful.  Keep smiling no matter how nervous you may feel. A confident team and manager usually mean a successful visit – 'confidence in management' accounts for around 33% of your Food Hygiene Rating!
2. What else will the inspector notice within the first few minutes?
You would be surprised how many venues I've visited over the years (particularly when working in Local Government) that would be contenders for Gordon Ramsay's Kitchen Nightmares.   Presentation is important and having a spotlessly clean, well laid out and ventilated venue are some of the keys to success.  Do you have separate facilities for hand washing with hot water, liquid soap and paper towels readily available?  Are raw and ready to eat food preparation areas separated by space or time? Do you have good facilities for both cleaning and disinfection? The inspector will talk to your team and ask questions, check temperatures and check due diligence records.
3. How well trained are your staff?
Policies and procedures are not enough, a compliant business needs an appropriately educated workforce.  An inspector will request documented evidence that all staff are supervised and instructed and/or trained to an appropriate level. Having good accredited training is important and certification shows that they have received the training and acquired the knowledge to prepare food safely.  Insufficient training can affect hygiene scores so all staff should have at least a level 1 in food safety and health & safety with high risk food handlers ideally at level 2 and supervisors' level 3. It is good practice for food handler training and certificates to be renewed at least every three years.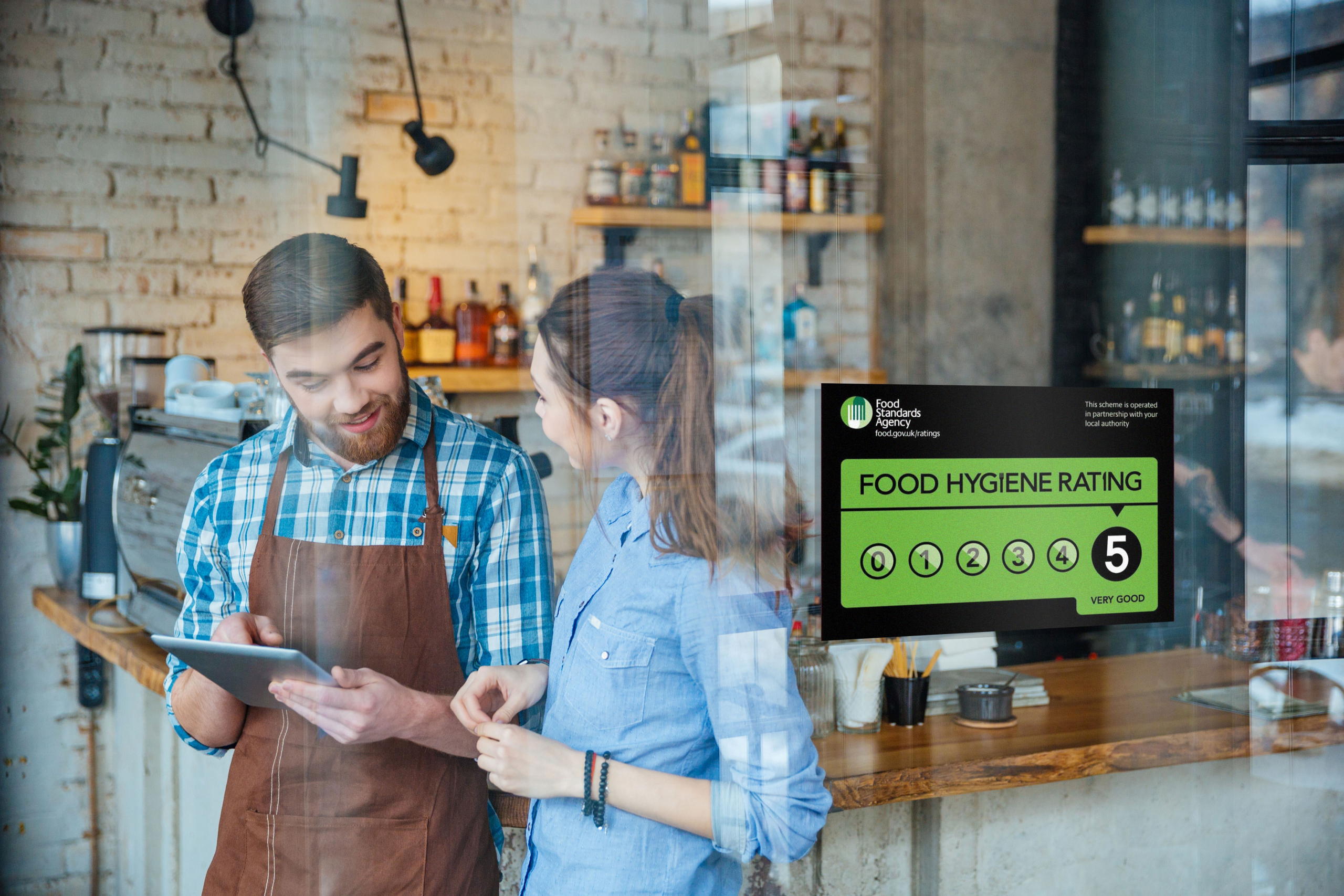 4. What reports will inspectors expect to see?
The main items requested for inspection during a visit include your food safety management system based on Hazard Analysis & Critical Control Points (HACCP). They will check your due diligence including temperature logs, pest management records, training records, plus maintenance and cleaning records. The HACCP plan needs to be clear, simple and understood by all food handlers and not just the senior chefs. It must be fully implemented in the business. Food safety is everyone's business and responsibility and a good food safety culture from management to all staff is so beneficial.  At a very basic level inspectors will expect you to have this information readily available, implemented and understood.  Non compliance is an offence and will definitely result in a lower rating.
5. When do you find out your rating?
The EHO / FSO May predict your rating at the end of the visit, which will be anything from 0 (urgent improvement is required) to 5 (hygiene standards are very good).  This will be confirmed in paperwork including a sticker for display.  Venues should be striving for a 5 rating and this is even more important with consumers paying closer attention to food safety ratings and hygiene measures than ever before.  A good FHR will both attract and retain business.
Displaying your rating is already compulsory in Northern Ireland and Wales, and England may follow very soon. Also, leading restaurant partners insist on operators getting a certain rating to advertise on their platforms and publish the scores you receive. Getting top 'scores on your doors' is crucial!
6. What happens if you get a low score?
Hygiene standards have always been important when it comes to reputation, but consumers are now even more hygiene aware since the outbreak of COVID-19.  If you fail to meet the right standards then you will receive a lower rating.
The EHO has many powers at their disposal including formal ones such as issuing a hygiene improvement notice, which will clearly set out what you need to do to be compliant. In the worse case scenario, for example if there is an imminent risk to health, you could be forced to close until further notice with an emergency prohibition notice or even face prosecution.  But even if none of the above happen and you receive a low rating, then it's going to impact your reputation from which it can be very difficult to recover.
7. How to be EHO ready
There are tools out there to help you comply but some of the most effective venues I have seen have made the switch to digital compliance, such as Alert65.  It means all compliance information and policy documentation, such as HACCPs, allergen management, food complaints, supplier management, temperature control reports, and cleaning and training schedules, are stored in one place and easily accessed.  This not only makes everyone's lives easier and less stressful but makes proving compliance to the inspector so much easier to show. There's no running around searching for lost pieces of paper and gives the inspector confidence that you are managing food safely! Why not make the switch today?