The war in Ukraine has disrupted more than half the global supply of sunflower oil and it is estimated that 70% of processed foods contain sunflower oil and therefore this disruption has the potential to affect a huge range of foods due to the need for reliable sources of alternative oils.
The FSA has been receiving inquiries by local authorities regarding substitution of sunflower oil with other refined vegetable oils (other than rapeseed oil) and in relation to the substitution of sunflower lecithin's with other lecithin's (emulsifiers). They have recommended to local authorities that they take a proportionate enforcement approach to inaccurate labelling where some full flower oil has been substituted by refined rapeseed oil at short notice but only if the situation is temporary and consumers are informed in other ways about the substitution of ingredients.
The main issues are:
Allergens
Nutritional changes
Environmental concerns
Genetically Modified Ingredients
Allergens
One of the key issues is the substituted oils may contain different allergens and whether alternative oils may increase the frequency of allergic reactions. The Food Standards Agency (FSA)  and Food Standards Scotland (FSS)  have carried out rapid allergen risk assessments for various vegetable oils and for the following oils the risk assessment estimated the frequency of allergic reactions to be very low and for fully refined soybean oil it was considered to be negligible.
rapeseed oil,
fully refined palm oil,
fully refined coconut oil,
fully refined corn maze oil
fully refined soybean
Soybean oil is also exempt from labelling under Regulation (EU) No 1169/2011 of the European Parliament and of the Council – Annex II Substances or Products Causing Allergies or Intolerances
The risk associated with unrefined coconut oil to allergic individuals is likely to be higher as the coconut oil contains more protein and the anaphylaxis campaign website has advised that unrefined coconut oil should be avoided by people allergic to coconut.
Nutritional information including claims about the nutritional and health benefits of sunflower oil.
Different oils may have different calories and nutritional information and when substituting sunflower oil you will need to remove any specific claims.
The rapid risk assessment found that sunflower oil being replaced with rapeseed oil has the least impact on nutrition labelling as it has technical properties and a nutritional profile similar to that of sunflower oil and the frequency of allergic reactions to rapeseed oil is very low.
Environmental Concerns
There are also environmental concerns especially associated with palm oil which many customers may wish to avoid.
Genetically Modified Food
Genetically Modified ingredients are another concern and operators are required to tell their customers which foods and ingredients, if any, contain genetically modified organisms. Some oils (sepecially soya bean) can come from GM sources so you must check the labelling of your cooking oil to identify whether it contains GM ingredients. For example: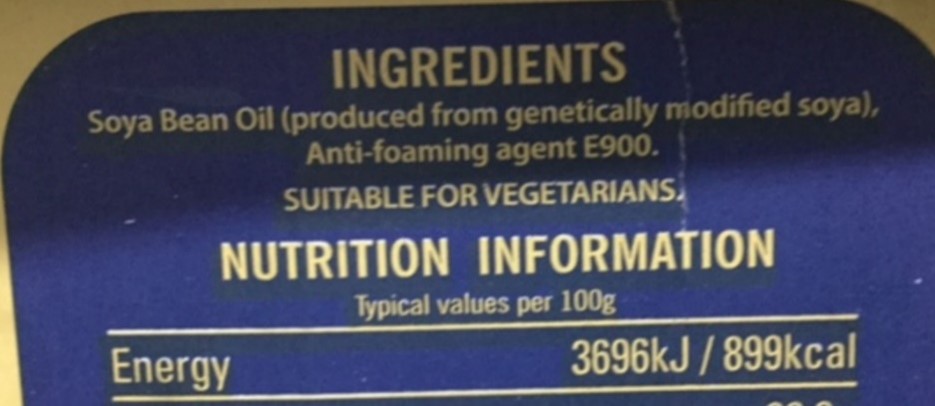 If GM materials are present we recommend you change to a non-GM alternative oil
If you are unable to substitute the GM oil, you will have to declare their use on the products label, your menu, or on a notice in a prominent position which everybody can see.
The table below is a summary of the FSA and FSS rapid allergen risk assessment outcomes on the substitution of sunflower oil with other oils

If you are looking for any further information, our team are on hand to help by calling us on 020 7244 1900 or email enquiries@foodalert.com.