As a food business you'll already be aware of how vital good food hygiene standards are for your business and your customers. But what do we mean when we talk about food hygiene? Are we just talking about clean food and a clean environment or is there more to it than that? Here we discuss the role a positive food hygiene culture plays within the modern food business.
Managing food hygiene standards in your business
Food hygiene management – or food safety management, as it's more commonly referred to – is about taking steps and putting controls in place to ensure the food your business produces is safe to eat.  It is about reducing the incidence of foodborne illness and injury via food. When considering your food hygiene management procedures, you'll also need to consider the hygiene management procedures required of:
Your suppliers
The traceability of food you buy and sell
How you transport food
You'll also need to ensure your business has the correct food hygiene processes and procedures in place.
What are the most common procedures?
There are many food hygiene (or safety) procedures that will have an effect on most businesses within the food industry. Each and every one of them should play a key role within the overall procedures of your business. In fact, it's vital that your business has robust food hygiene procedures in place to ensure that you're compliant with the latest food safety regulations.
What are these procedures and why are they so important?
Temperature Control
By maintaining strict temperature control procedures, you're ensuring that the food made by your business is safe to eat. As a business within the food industry, you must ensure that food is always cooked, cooled, chilled and reheated properly. This minimises the risk of harmful bacteria to your customers. At Food Alert we have partnered with KoolZone, to provide wireless temperature monitoring, so you can make the minutes in your kitchen count and eliminate the risk of human error.
Cleaning
Keeping your prep areas clean is vital to prevent food poisoning. In fact, it's vital that you keep everything that comes into contact with food clean to prevent possible contamination. It also reduces the risk of pests such as mice, rats or cockroaches from infesting your premises. And no customers are going to come into a dirty restaurant!
Cross Contamination Controls
According to the FSA, "Cross-contamination is what happens when bacteria (or similar organisms) are unintentionally transferred from one object to another. The most common example is the transfer of bacteria between raw and cooked food." However, you can control the risk by:
Preparing food in a hygienic manner – This means using different equipment for raw and cooked food, keeping equipment clean, washing your hands regularly and by not washing raw meat.
Storing food properly – Cover raw food and keep it separate from ready to eat food, keep meat/seafood on the bottom shelf of your fridge, use different equipment for raw/cooked food, operate a 'first in, first out' policy on chilled goods and use date labels.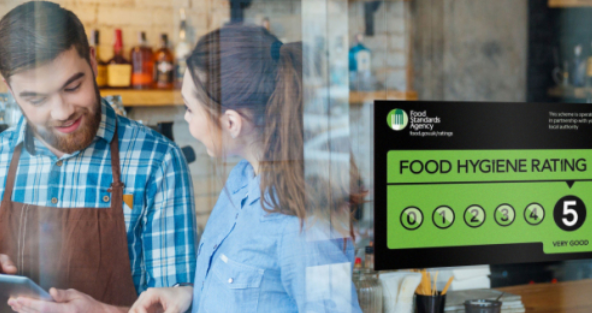 Controlling/Managing Allergens
Allergen legislation has undergone some drastic changes in the last few years, as you'll be aware. Check out our Top 10 Q&As on Natasha's Law for more information. It's up to you and your staff to ensure all allergens are correctly communicated to your customers and that any dietary requirements are handled correctly. If you're not doing it correctly, it could have a devastating, if not lethal, outcome for your customer and your business!
HACCP
In the most basic terms, HACCP is like a big risk assessment for food production and handling. It makes you go through a logical process of examining and assessing risks along the food's journey through your business then putting controls in place to mitigate these risks.  HACCP also helps determine how you are going to monitor the critical control points (CCPs) and procedures for validating the system to ensure its effectiveness.
Training
As with any business, in any industry, it's important that your staff are fully trained to do their jobs safely and correctly. This is especially important in the food industry. Your staff must constantly be up to date with the ever changing food safety laws. If they're not, it will affect your business and, possibly, your customers!  Check out our suite of training and e-learning courses.
Personal Hygiene
Poor personal hygiene standards equate to bad food hygiene standards. What's worse, you're probably not even aware of the issues.  Communicating the importance of personal hygiene with your teams and giving them the facilities to adopt best practice is vital.
Need support with your food hygiene?
We have addressed just a few of the most common food hygiene procedures used by food businesses.  If you would like support of our expert team or wish to discover more about our compliance software application, Alert65, which means you can access all your food hygiene and safety certificates, checklists and training schedules from any location, at any time, simply give us a call on 020 7244 1900 or get in touch with us online and we'll call you back at a time that suits you.