With businesses having been closed since January and with many outside areas not having been used since the end of autumn, operators need to review many aspects of health, safety, and hygiene.
So, what do you need to do to make your outside space Covid safe?
1. The Rules / Restrictions
The rule of six and households (max 2) that can mix apply, but there is no longer the need for customers to be provided with a substantial meal.
Customers need to be seated, with full table service – no ordering at the bar.
FOOD ALERT'S CLIENT SERVICES DIRECTOR, JOHN HASWELL SAYS: Businesses need to check and make sure their outdoor furniture, equipment and any coverings (gazebos, marquees, etc.) are safe and in good order ahead of opening. 
2. Outside Furniture – Tables and Chairs
All outdoor furniture should be inspected for damage that may have occurred over the winter months and during lockdown that would see them potentially collapse or cause injury.
Screws, nuts, bolts and joints should be secure and where possible stress-test the furniture before your customers unintentionally do it for you!
FOOD ALERT'S CLIENT SERVICES DIRECTOR, JOHN HASWELL SAYS: Insurance claims against businesses for accidents relating to faulty furniture are all too common. Record your checks and tests to show your furniture is in good repair and condition before you open – not only will this minimise the risk of accidents but it also increases your chances of defending a possible claim.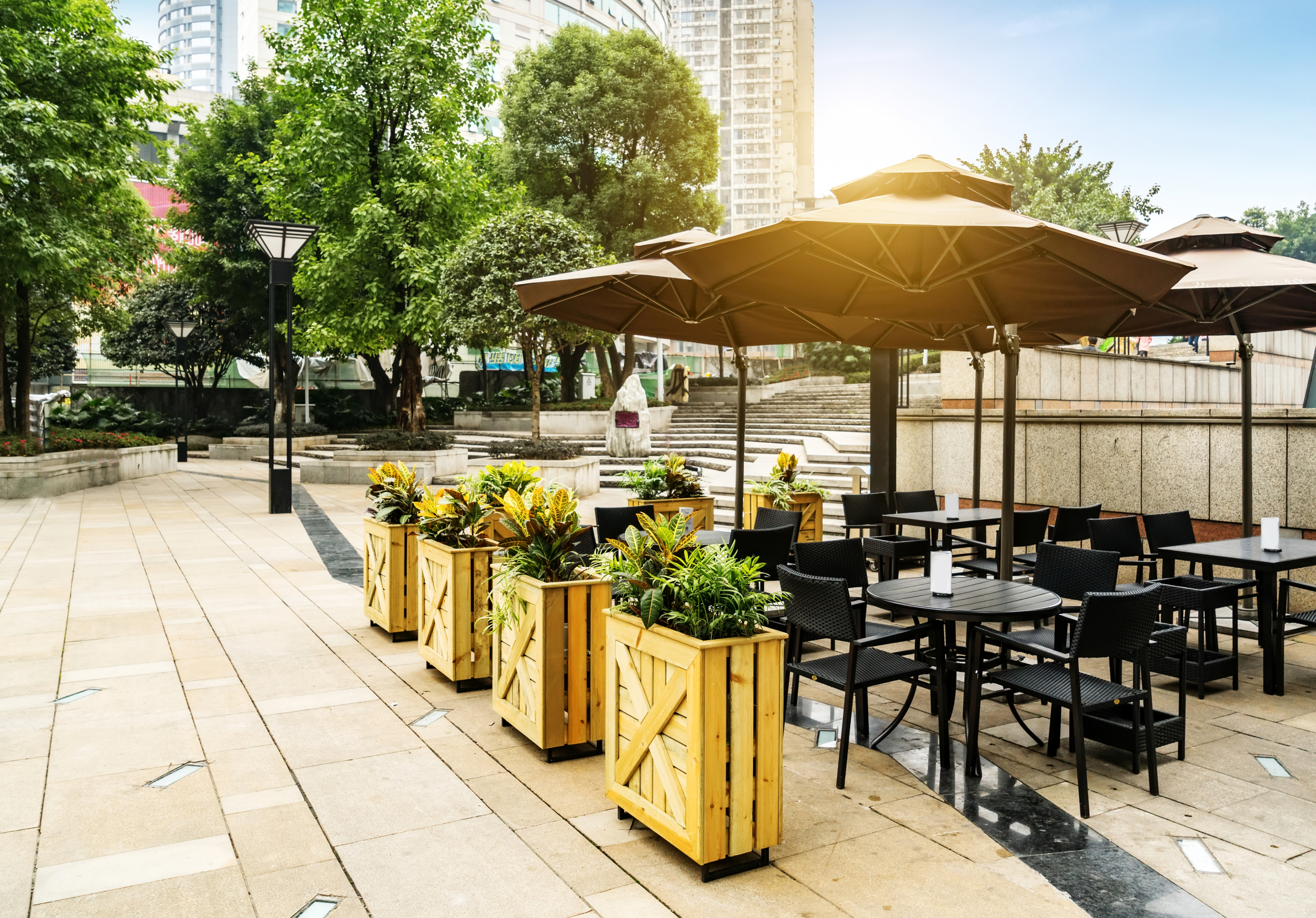 3. Soft Furnishings – blankets and cushions
All soft furnishings, such as blankets and cushions, must be cleaned and effectively disinfected and ideally laundered between each use. There's also a case for reprising previous controls relating to disinfection using a suitable chemical, or quarantine and rotation.
FOOD ALERT'S CLIENT SERVICES DIRECTOR, JOHN HASWELL SAYS: Whatever your process, you should make sure your teams are brought up to speed in terms of training and that your procedure is robust to soft furnishings do not increase the risks of cross-infection from COVID-19.  It will be down to you and your business to demonstrate not only that controls are effective but are in place and working effectively.
4. Weather Protection – Marquees, gazebos, and canopies
We are all keeping our fingers crossed for the warm sunny days of Easter 2020, but not only is this far from guaranteed, we can expect rain at some point and customers will want shelter.  Poor weather is not an excuse to take covers indoors – that will still be illegal – so you need to have procedures in place to deal with this eventuality:
Any outside shelter must be checked for safety before being used. These checks should confirm they are structurally intact and safe to use.
It is also important that any covered outdoor area complies with the requirements detailed in smoke-free legislation. For example, large outdoor temporary structures which have a roof and are enclosed on all sides except for the entrances/exits would not be considered outside spaces and their use may be stopped due to a lack of through-ventilation, which is one of the reasons why outside areas are considered a lower risk when it comes to person-to-person spread of COVID-19 infection.
FOOD ALERT'S CLIENT SERVICES DIRECTOR, JOHN HASWELL SAYS: If your covered outside area is more than 50% enclosed then you may want to consider removing some of the sides to increase ventilation.
Throughout the pandemic our team of Hygiene and Health & Safety consultants have helped hundreds of hospitality venues keep on top of their regulatory responsibilities.
If you'd like the support of our expert team, simply give us a call on 020 7244 1900 and we will be happy to discuss your COVID-19 needs and general compliance requirements.
Or get in touch with us online and we'll call you back at a time that suits you.