If your business prepares or serves food, you must register it using either the food business registration service on GOV.UK, via your local authority website or by using the model application form. For more information on registering your business click here.
The Environmental Health Officer's (EHO) from your local authority will then come to inspect your premises. Their purpose is to ensure the food your business produces is safe to eat.
What is the purpose of an EHO visit?
At the end of their visit, in England, Wales, and Northern Ireland, they will present you with a score from the Food Hygiene Rating scheme of 0 – 5. The scheme is standardised across England and Wales to maintain a consistent assessment of safety standards. Any business should be able to achieve a "5 – very good" rating. Scotland has its own equivalent system but will either issue a "pass" or "improvement required" rating.
If your business is perceived as high risk, officers will inspect it every 6 months. If it is low risk, EHO officers may visit every 5 years. The risk depends on the type of business (for example, restaurants are higher risk than a shop selling packaged food), and the level of concern a business has caused from past inspections.
What do EHO Officers look for?
How hygienically the food is handled – how it is prepared, cooked, re-heated, cooled and stored
The condition of the structure of the buildings – the cleanliness, layout, lighting, ventilation, and pest control
How the business manages and records what it does to make the food safe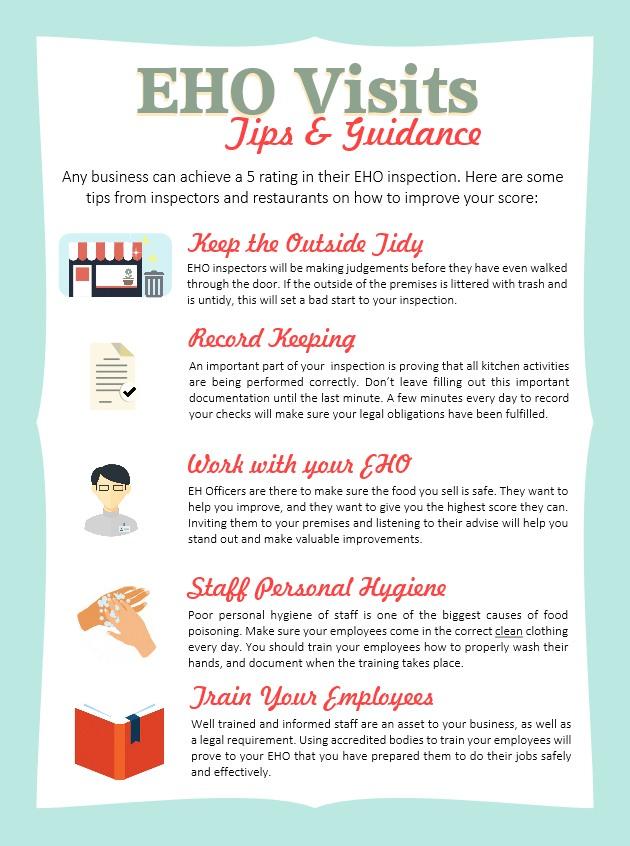 What the food safety legislation says:
Preventing the EHO from carrying out their inspection is a criminal offence. In turn, there are some things you should expect from your EHO. They should:
Show identification
Give feedback from any inspection, such as information about issues that have been identified, and provide guidance on how they should be avoided
Clearly distinguish between what you must do to comply with the law, and what is recommended good practice
Give you reasons, in writing, for any action you were asked to take
Identify where there is an apparent breach of law, and provide a statement of what that law is
Give you reasonable time to meet mandatory requirements (except where there is an immediate risk to public health)
Outline procedures for appealing against local authority action
How can Food Alert help?
Food Alert provides expert guidance in preparing for EHO inspections, and assistance with action points following their visit, to help you achieve the highest Food Hygiene Rating possible.
If you are a business in the hospitality or catering sector and you would like guidance to improve your Food Hygiene Rating or if you would like support in preparing for your next EHO visit, Food Alert are here to help.
We provide guidance in preparing for an EHO inspection and assistance with action points following the EHO visit. Food Alert clients benefit from peace of mind, brand protection and high food hygiene ratings.
Food Alert clients gain:
Support and guidance
Improved Food Hygiene Rating
Tailored systems and procedures
Personalised manuals
Risk assessment
For more information on how Food Alert can advise your business and provide easy and simple solutions, please contact enquiries@foodalert.com or 020 7244 1900.
Further information can be found at:
http://www.food.gov.uk/business-industry/hygieneratings/food-law-inspections
The information contained in this article has been created for marketing purposes and is not official guidance and should not be used as a substitute for official food safety, health & safety nor fire safety advice.
For official guidance and to engage with Food Alert services please do call our team on 020 7244 1900 or email enquiries@foodalert.com