You just have to take a look at social media and conversations with friends and colleagues to know that most of us can't wait to go 'out out' next month – even the Prime Minister has booked a pub for 12th April when outdoor hospitality spaces reopen.
Of course, this bodes well for the hospitality sector that has been affected more than most other business sectors by the last 12 months.
However, although most of us will adhere to the guidance and behave responsibly while enjoying our favourite meal and tipple in a pub, bar or restaurant garden, there are bound to be some who will take their high spirits too far.
The responsible retail of alcohol is a tricky issue to master at the best of times, but even more so when the population has been starved of socialising for so many months and the success of the roadmap out of restrictions relies on every one of us adhering to the hands, face, space rules.
All eyes will be on hospitality next month and responsible retailing is going to be critical in order to future proof the sector.
So, what can operators do to make sure their business and teams are prepared to manage customers and encourage responsible drinking of alcohol? 
1. Managing Alcohol Sales
To be COVID compliant, many businesses have adopted app-ordering as customers can't order at the bar or till point.  This technology has really taken off, but it does make keeping track of the number of drinks ordered through the app difficult.  It also makes spotting underage drinking trickier.
Having to remain seated whilst eating and drinking also presents challenges, as identification of drunkenness is more difficult (no stumbling and unsteady walks to spot).
Ways in which this has been addressed by businesses since the first lockdown are:
Customer time restrictions – in most cases between 1 and 2 hours per booking.
Whilst great in principle, this policy does throw up several challenges, especially when it comes to measuring the time of walk-ins and telling customers their time is up. Training your teams and communicating time slots when bookings are made is a particularly good idea. Also, consider employing professional security teams to support your teams.
Determining drunkenness– staff trained to know the point to refuse service.
There are some great courses available for managers and staff on the responsible retail of alcohol that businesses can adopt for their teams. Businesses should also brief teams prior to reopening on how to spot the signs of when a customer has 'had enough'. For less experienced members of the team, providing support as they deliver drinks to tables is recommended.
Failure to adopt a clear policy and training around this area can lead to safety concerns which may include:
Increased risks of accidents eg trips and falls
Behaviour issues – management of unwelcome interactions between customers breaking Covid safe protocols; added stress for team members
Challenging Potentially Underage Customers – staff  refresher on age restrictions
Prior to the last lockdown, there was an increased undercover police presence in hospitality intent on enforcement of COVID rules.  There's no reason to believe this won't be the same as we emerge from this latest lockdown.  Refresher training for teams serving drinks to customers is strongly advisable.
Providing drinks to underage customers is an offence that can be committed by both businesses and individuals. Evidence of refresher training is therefore going to be important.
FOOD ALERT'S CLIENT SERVICES DIRECTOR, JOHN HASWELL, SAYS: This is not about getting ready for the carnage of a fresher's week, but is about making sure that those businesses opening on 12th April welcome customers back into hospitality responsibly and safely.
2. Communicating house rules
Although the majority of people know how to act reasonably and responsibly when out having fun, there will be the minority who do not. What was seen in previous post-lockdowns was reports of individuals who wanted access to hospitality but did not want to follow COVID safe rules.
Preparing managers and teams to deal with cases where the rules are not being adhered to will be an important part of reopening preparations.
Considering how the rules will be conveyed to customers at this stage is important:
Ensure guidance posters are up to date, clear, and well positioned so they cannot be missed. At Food Alert we have updated our COVID Safety posters, and they are free to download here.
Staff should have a clear understanding of the COVID-19 rules including track & trace, wearing of face masks, group sizes and use of toilets etc
Stopping ongoing service of customers not following COVID requirements
Making sure any security measures already in place are working effectively eg CCTV
Training on 'AskforAngela' new police campaign to help people at risk in pubs and clubs
FOOD ALERT'S CLIENT SERVICES DIRECTOR, JOHN HASWELL, SAYS: Communication is key when trying to strike the balance between creating a fun but COVID safe experience.  Clear signage for customers and staff briefings on the house rules are key.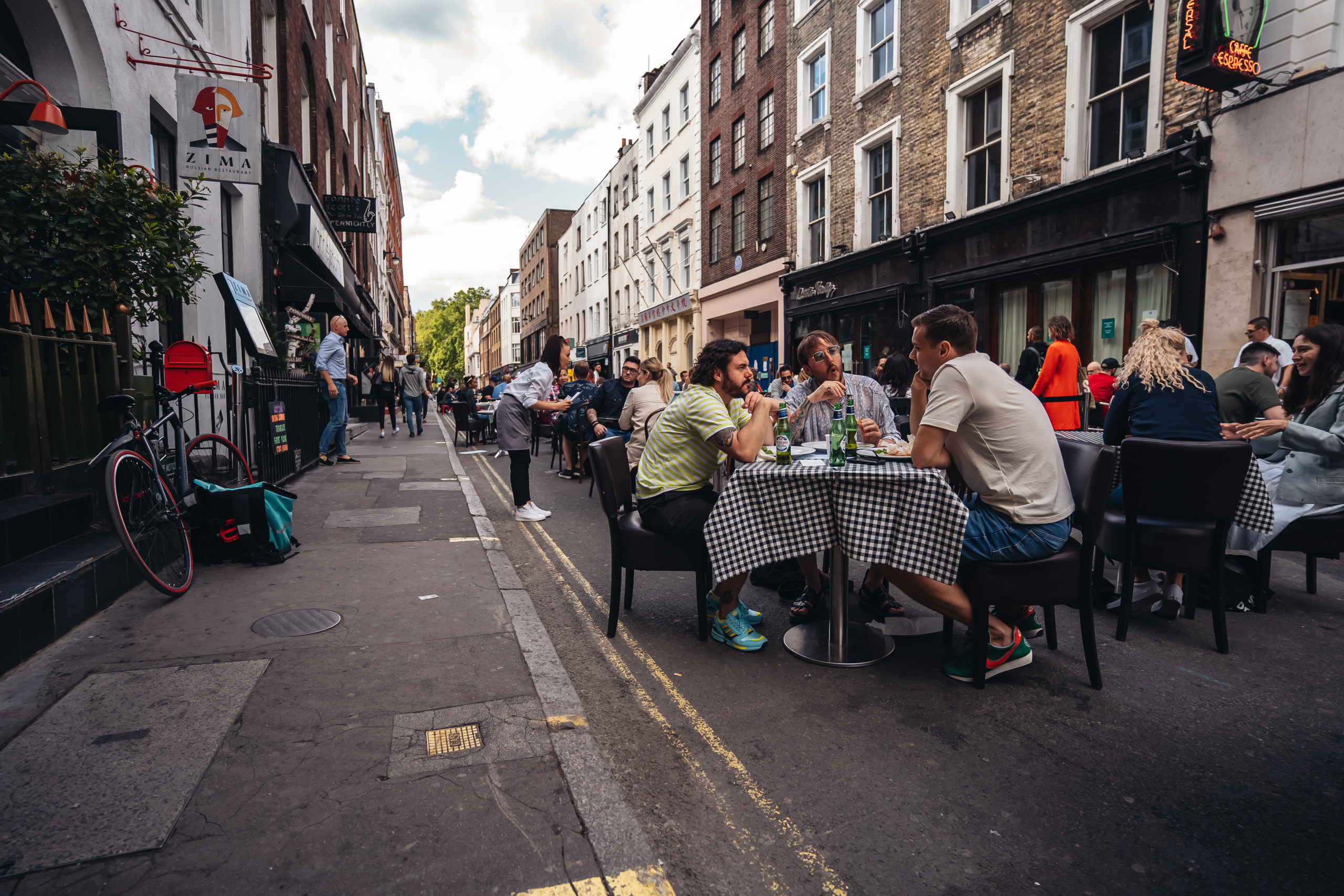 3. Smoking in Outdoor Spaces
One of the things to consider will be how to manage customers' smoking in an outdoor space. Failure to address the topic, could present challenges when a customer starts smoking amongst people who take offence.
A simple way to address this, as with most things, is to be clear from the outset with your rules and convey these effectively to staff and customers:
No smoking! It's simple enough to understand and should be communicated on entry and will need to be enforced.
Smoking Areas. Signed and provided with ashtrays/bins and consideration of 'No smoking' signs on all other tables.
FOOD ALERT'S CLIENT SERVICES DIRECTOR, JOHN HASWELL, SAYS: Choosing to ignore the subject of smoking will lead to problems.  So, know what you want your rules to be and make sure they are clearly signposted and communicated to staff.
4. Reporting of Accidents and Incidents
Finally, it is important to make sure managers and teams report any accidents and incidents as you may be required to provide evidence relating to insurance claims or local authority activity.
This is where a digital solution, such as Food Alert's compliance software, Alert65, can be of benefit, helping teams to easily house photos, witness statements and evidence of training in one single location.
FOOD ALERT'S CLIENT SERVICES DIRECTOR, JOHN HASWELL, SAYS: Retaining and having information to hand and never needing it, will always be preferable to needing it and not having it.
Our team of Hygiene and Health & Safety experts has been helping businesses throughout the pandemic. We understand there is so much to think about when it comes to being Covid safe and fully compliant, but you don't have to do it alone.
If you'd like the support of our expert team, simply give us a call on 020 7244 1900 or get in touch with us online and we'll call you back at a time that suits you.