The countdown is almost over and the eagerness to reopen our pubs, bars and restaurants is palpable.
The last couple of weeks gave us a glimpse of what summer could look like as the sun fleetingly made an appearance, breaking temperature records for this time of year.
And, also making an appearance, was the government's industry guidance.
So, in light of the guidance what are the burning questions that operators are asking ahead of 12th April? Well, it's the three Ts: Test & Trace, Takeaways and Lateral Flow Testing
1. Test & Trace
It's back and it's a legal requirement. However, this time around a new, more obvious NHS COVID-19 app QR Code must be displayed at the entrances to all businesses, and that ALL customers aged 16 and over will be required to check-in.
Whilst businesses must display the COVID-19 QR code for customers to check in, where customers choose not to use this, venues must ask every customer and visitor (over the age of 16) for the following details:
The name of the customer or visitor.
A contact phone number for each customer or visitor. If a phone number is not available, you should ask for their email address instead, or if neither are available, then postal address.
Date of visit, arrival time and, where possible, departure time.
Other key considerations are:
Venues may find it easier to have time slots for customers to book to manage customers.
Customer details can be collected on entry or once seated. It is important to check that all customers have checked in or provided details. The creation of a single point of entry is useful but if not practicable then alternatives should be considered to ensure guest details are collected prior to placing of an order.
Any customer details taken must be kept secure and businesses must ensure they comply with GDPR rules. It's advisable to consider how to collect and retain these details securely. Also think about how contractors will sign in and out and provide the same details as those expected from customers.
FOOD ALERT'S CLIENT SERVICES DIRECTOR, JOHN HASWELL, SAYS: Test & Trace is something hospitality has to learn to live with for the foreseeable future, so having clear, well signposted and communicated systems and policies in place is a must. Unfortunately, every venue is unique in terms of access and design, so it's never as straightforward as it should be.
2. Takeaways
In order to maximise sales opportunities from 12th April, many hospitality businesses are looking to introduce a takeaway service too. This means that any food and drinks purchased as a takeaway option are not allowed to be consumed on the premises.
However, it does mean that operators should consider the 'nuisance factor' when it comes to noise and litter that takeaways produce – highlighted in the media over the past week. Having rubbish from your business scattered over benches and in local parks and beauty spots is hardly going to be good public relations!
Solutions to consider are:
Ensure that litter is picked and 'be considerate' notices are displayed.
Look at locations for queuing and how best to keep takeaway customers suitably separate from those waiting to be seated. Keeping both sides of the business separate will help in terms of being clear who does and doesn't need to provide T&T details. It will also enable staff to identify guests not following rules regarding drinking or eating only when seated.
Businesses should also be mindful that the trading standards rules apply when it comes to the sale of takeaways, especially items sold by strict measurements, eg a pint must be exactly that. Selling alcohol other than by prescribed quantities is still an offence.
FOOD ALERT'S CLIENT SERVICES DIRECTOR, JOHN HASWELL, SAYS: Offering a takeaway service can be a great way of boosting income, but while you can control the behaviour of people on your premises, it's a different story when they walk away. However, your business reputation could be ruined if lack of due care and consideration is given to neighbours in terms of noise management and litter control.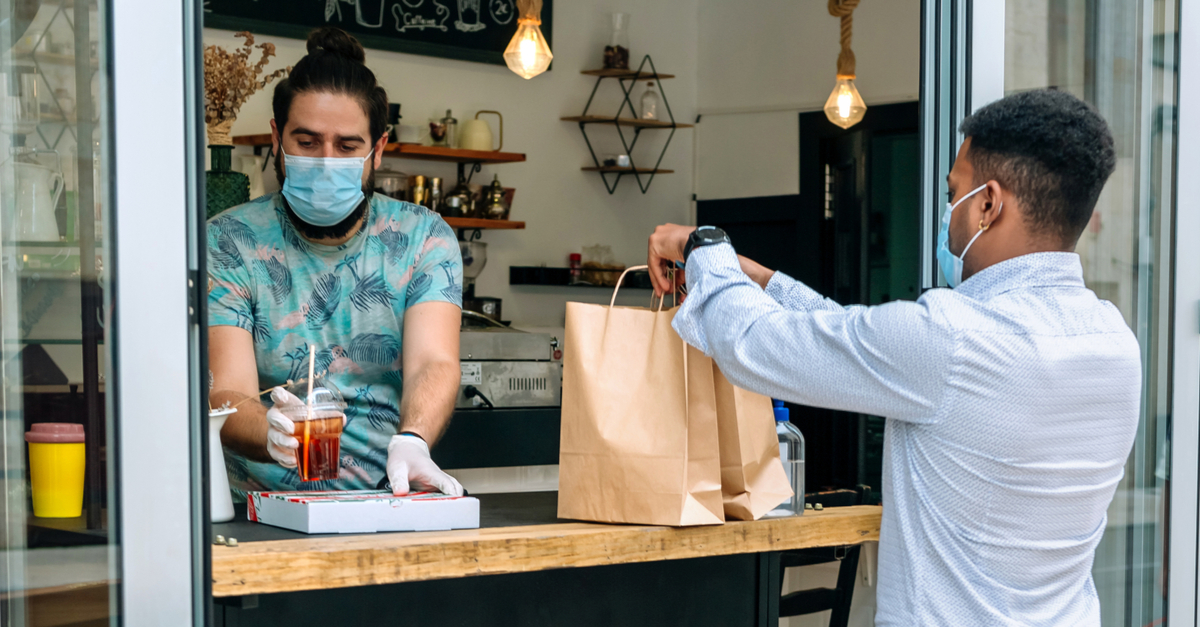 3. Testing – Lateral Flow Tests
Until recently, most of us would not have heard of a lateral flow test (LFT), let alone how to use one. The government's strategy is to offer LFTs to those businesses who apply for them, so that employees can test themselves in the same way that students in secondary schools have been doing since returning to the classroom.
Whilst the tests are available to businesses who have registered to receive them, considerations should be given to:
Making sure there is a clear testing policy – will tests be done on arrival at work? Or, similar to schools, will they be done at home and the results shared ahead of starting a shift?
Effective instruction and training on self-swabbing and testing to ensure the test is more effective and accurate.
Storage – if test kits are being stored at the premises, make sure there's enough room and they are stored appropriately.
Policies – clearly defined and communicated procedures that employees must follow in the event of a positive test positive. Plus, consider how the business will respond to a localised outbreak.
FOOD ALERT'S CLIENT SERVICES DIRECTOR, JOHN HASWELL, SAYS: LFTs are a positive safety measure, which have been designed to help us diagnose problems quickly.  However, the way in which we respond to testing is as important as knowing about a possible COVID infection. Training teams on what the testing means and requiring follow-up formal testing will be important to LFT being an effective tool in our fight to not only reopen, but stay open.
Our team of Hygiene and Health & Safety experts has been helping businesses throughout the pandemic. We understand there is so much to think about when it comes to being Covid safe and fully compliant, but you don't have to do it alone.
If you'd like the support of our expert team, simply give us a call on 020 7244 1900 or get in touch with us online and we'll call you back at a time that suits you.