Yes, we've finally made it – hospitality is finally beginning to reopen!  From 12th April, pubs, bars and restaurants up and down the country started serving customers once again, but only outdoors. 
From May 17th, the governments roadmap – all being well – extends this to indoor hospitality.
However, there are still many COVID-19 caveats in place and at Food Alert we have pulled together the top 10 frequently asked questions from operators seeking much needed guidance and support as we continue on the [England] roadmap to normality.
Please note that whilst we endeavour to provide the most up to date and correct information, there is the possibility that guidance will change over the coming weeks and months, so do stay tuned to the Food Alert blog for further updates.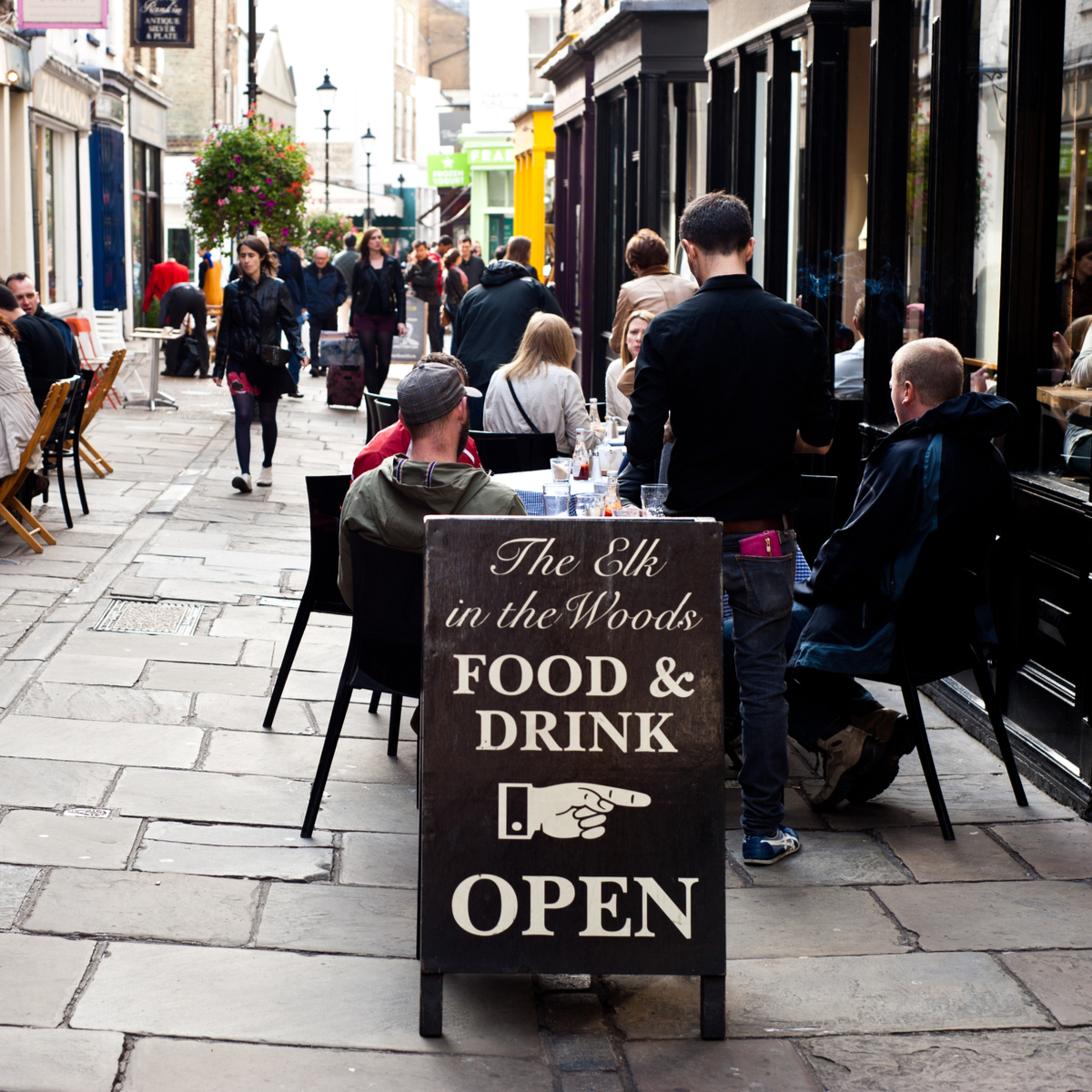 1. What outdoor shelters can I erect outdoors to still be compliant?
As we know the British weather is changeable, so use of outdoor shelters has grown in popularity and is now a common sight in many a pub garden. With only outdoor dining allowed, businesses are keen to provide shelter for customers as they are not allowed to shelter indoors even if the skies open up!  However, to be considered 'outdoors', shelters (in line with existing rules of outdoor smoking areas, marquees and other structures with a roof need to have at least 50% of the area of their walls open at all times whilst in use.  There is also greater flexibility for businesses with exemptions for requiring a planning application to erect these structures.
2. Can I allow entertainment and host live music and outdoor events?
Background music and TV screenings (e.g. sport) will be allowed outside, provided volume is kept low.
Live music performances are permitted as long as its complementary to seated customers drinking or dining, and it's not the main purpose of their visit. Venues must not charge for admission or admit an audience in addition to individuals seated for eating and drinking, as this would be considered a live music event.  Business must follow COVID-19 secure rules and all guests must be remain seated. Live events will be able to resume when hospitality can trade indoors at step 3 in the roadmap. We await further guidance on this.
The number of days allowed for temporary events featuring a marquee, for example, has increased from 28 to 56, and this provision has been extended until 31st December 2021.
3. What risk assessments should I be carrying out?
At each stage or reopening new risks are going to present themselves.  So, in order to operate safely consider the following:
Identify what work activity or situations might cause transmission of the virus
Think about who could be at risk
Decide how likely it is that someone could be exposed
Act to remove the activity or situation, or if this isn't possible, control the risk
The main controls for COVID-19:
Physical distancing
Ventilation
Disinfecting hand contact surfaces
Enhanced hand washing and hand sanitiser use
Vaccination & Testing
Our digital compliance software, Alert65 can be of real help providing access to COVID-19 risk assessment templates.
4. What is now acceptable when it comes to social distancing?
The requirement for physical distancing for customers and employees remains 2m apart, where possible. Where this is not possible keep a social distance of 1m+ (e.g. 1m apart plus additional precautions such as side by side or back to back seating).
To assist with social distancing you should:
Post signage promoting the wearing of face coverings and observing social distancing
Mark the direction of travel to designated entrances and exits, pick up areas and toilets
Consider whether a queuing system is required and ensure that it is implemented properly
Use floor markings and signage should to visually show physical distancing requirements
Use technology, such as mobile ordering, menu tablets and contactless payment to reduce person-to-person interaction
Install barriers such as clear plastic sneeze guards
5. What services can I offer customers indoors? Customers must only use indoor areas for restricted purposes including:
Travel through the venue to an outdoor area
Use the toilet
Use the baby change facilities
Provision of first aid etc.
Pay where this is not possible outside
Venues should ensure that customers using toilets and/or walking through the indoor area(s) adhere to COVID-19 secure rules:
Wear a face covering
Do not linger or block corridors or access points
6. Are disposable gloves safer than hand washing?
Hand washing and sanitising are more important than wearing gloves.  Disposable gloves should only be considered where the risk cannot be controlled in other ways. If gloves are being worn, hands should still be washed and sanitised y  and gloves changed regularly.
7. What steps can I take to make the health and safety of my employees as safe as possible?
 There are a number of considerations that need to be taken into account from practical steps to training and mental health support:
Update food safety, health & safety and COVID-19 training
Mental health considerations – reconnection with colleagues
Daily COVID-19 briefings – remind team of measures in place
provision of suitable clothing for the weather conditions
Consider health & safety issues outside, such as risk of slips in wet weather
Complete updated Return To Work questionnaires
Limit the number of people in changing rooms so that social distancing rules can be met, e.g., stagger breaks, have maximum occupancy numbers for small rooms
Reorganise facilities in communal areas such as spacing out tables in meeting rooms, canteens etc.
Work in fixed teams
8. How frequently should we be cleaning our premises?
Not only will customers expect to see frequent cleaning be carried out in order to feel safe and secure, it's good practice too with or without COVID-19.
High touch point areas – tables, chairs, door handles, toilet facilities etc – should be cleaned frequently with a chemical confirmed to be effective against COVID-19 and complies with BS EN 1276.
9. How can I obtain Lateral Flow Tests for my staff?
The deadline for applying for free lateral flow tests was 12th April.  However, if you have missed the deadline you can choose to:
If anyone has COVID-19 symptoms, they must not use lateral flow tests but should arrange a PCR test and stay at home. More information can be found here or using the link https://www.gov.uk/get-coronavirus-test
10. Do I need to ensure that all customers register with Test & Trace after April 12th?
Test and trace obligations will remain in place until at least September 2021.
In a change to the previous requirement, the contact details for all persons in a party (aged 16 and over) must be captured – it will no longer be sufficient to have the lead party member only. This means that all contact details must be captured at the point of booking or customers will have to scan the NHS QR code or provide contact details manually on arrival.
It is also a legal requirement to:
Display the official NHS QR code poster which can be generated online
Capture contact information of everyone onsite – customers, staff and visitors (not deliveries), so a record should be kept of staff rotas. Staff are also able to scan in using the NHS QR codes
Take 'reasonable steps' to refuse entry to those not providing contact details or scanning the QR code. However, if reasonable measures to restrict are not successful, it will not be illegal for a customer to enter the premises.
Our team of Hygiene and Health & Safety experts has been helping businesses throughout the pandemic. We understand there is so much to think about when it comes to being Covid safe and fully compliant, but you don't have to do it alone.
If you'd like the support of our expert team, simply give us a call on 020 7244 1900 or get in touch with us online and we'll call you back at a time that suits you.