It's been a long and winding COVID-19 road, but it's safe to say there is light at the end of the tunnel, with outdoor hospitality and self-catering holidays (household only) allowed to open from Monday 12 April. 
Indoor hospitality and all domestic holidays have cautiously been given the thumbs up from Monday 17 May.
From lateral flow tests to PPE and cleaning regimes to social distancing, we set out what operators need to do in order to make sure they are ready to safely reopen.
Maintaining the highest levels of hygiene is going to be key for both customer and employee confidence, and many of the same protocols will still be in place following the Hands, Face, Space mantra.
Hands: The cleaning of high touch areas such as door handles, front of house counters, toilets and back of house areas, must be carried out frequently using disinfectants and hand sanitisers that comply with BS EN 1276. Having a Cleaning Checklist is key and digital checklists are recommended.
Face: Face coverings are still mandatory in all public areas. Staff in customer facing roles must wear face coverings which cover the nose and mouth.  Customers will also be required to wear face coverings when on the premises except when seated to eat or drink.
Space: The rule of 6 / two household will be in operation. Social distancing measures will also have to be adhered to, including one-way systems and table service only.  From 17 May outdoor hospitality will be extended to 30 persons and indoor hospitality will be rule of 6 / 2 households.
There are other measures that should also be considered, including whether to introduce rapid lateral flow testing of employees in addition to team bubbles, where employees work the same schedules and limit the impact should someone test positive.
Flow tests are certainly worth considering as a way of protecting both your employees and customers too. If your business has over 50 employees, you can register to order tests for your employees without symptoms. Other businesses with less than 50 employees should contact their local authority for free tests where available.
When it comes to customers, recording contact details is still incredibly important and in England it continues to be a legal requirement to display the NHS Test & Trace QR Code poster, so that customers with the NHS COVID-19 app can use them to check-in.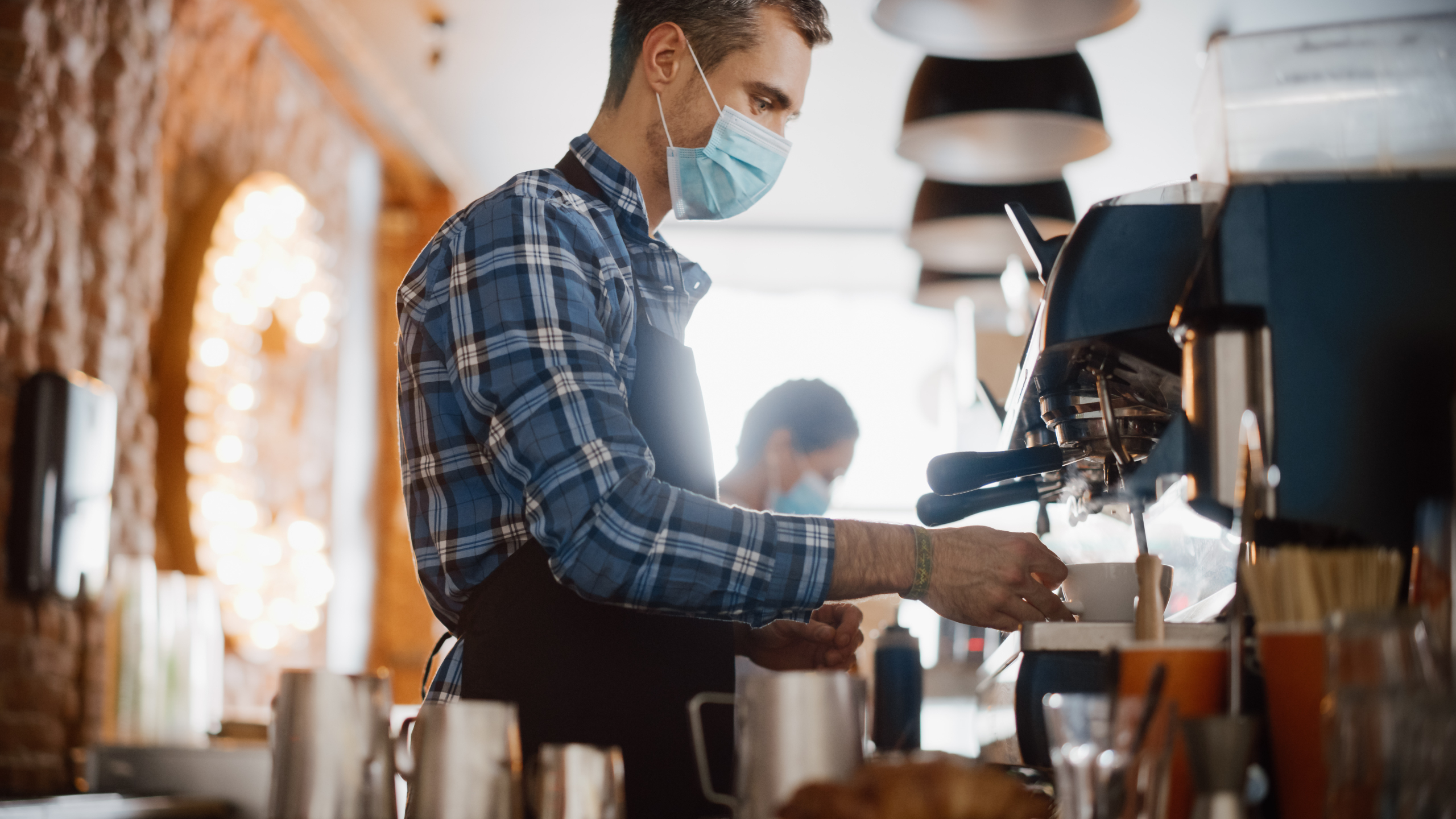 Whether or not 'Vaccine Passports' will be a requirement of entry is not on the cards at present, but one lesson from COVID-19 is the sands are always shifting!
What's certain, is there's so much to think about between now and opening and pulling everything together to be COVID-19 secure is a huge task.
That's why hundreds of Food Alert clients have already signed up to our COVID-19 Standard, designed specifically to help hospitality business owners get back on their feet and back to business.
Don't just take our word for it. Scandanavian-influenced restaurant, Ekte has achieved the COVID-19 Standard and manager, Spiros Koutsouris, said: "I wanted to be sure that we were doing everything we could to keep our guests and employees safe and working towards the Food Alert COVID-19 standard offered that peace of mind.
The re-opening process was definitely made easier with the raft of support materials Food Alert made available through its Alert65 compliance app and online, with easy to print templates, signage and check lists all easily available at my fingertips." 
The COVID-19 Standard covers key topics such as:
Cleaning protocols
Physical distancing
Personal protective equipment (PPE)
Compliance documentation and more
The Standard verifies that the controls laid down have been successfully applied in the venue.  Upon completion, the business receives a 'COVID-19 Standard' certificate and sticker to display to prove compliance and gives customers and any inspectors the reassurance they need that you are operating the highest hygiene and safety standards.
We would also recommend that operators use the next few weeks to make sure teams are fully trained on all hygiene and health & safety topics, so they are clear on the arrangements in place and what is required of them and others.
If you'd like the support of our expert team, simply give us a call on 020 7244 1900 and we will be happy to discuss your COVID-19 needs and general compliance requirements.
Or get in touch with us online and we'll call you back at a time that suits you.