Growing old isn't what it used to be as the over 65's are playing an increasingly active and enthusiastic roles in the Economy. A recent Barclay's Corporate Banking report released in April 2015 reveals that the UK Hospitality & Leisure Sector has missed out on at least £16 billion in revenue by under-estimating the spending power of the older generation in the last year.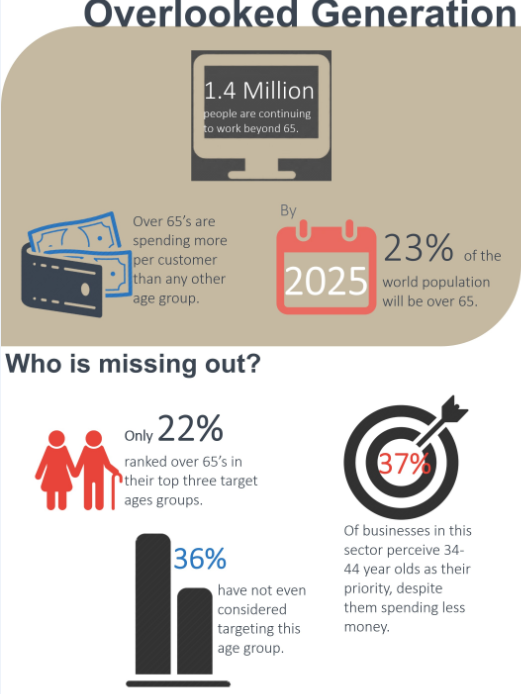 Mike Saul, Head of Hospitality and Leisure at Barclay's said 'There appears to be a gulf between the perception and reality of the spending power of over 65's. By not fully focusing in on the needs of this generation, and the revenue growth opportunity they represent, businesses may risk missing out on their share of £16 billion this year alone'.
The expected loss of opportunity is only set to increase as the projected growth of the over 65's is 35% and the annual spend of over 65's could grow from £37 billion to £57 billion. That means a lot of money going into the economy which we can't afford to ignore.
Tapping into the grey pound.
If you wish to tap into the grey pound by planning to accommodate the currently 'overlooked generation' these are some key takeaways we can learn from Barclay's report.
Investment
Investment into your business could help you capitalize on the 65 and overs. The Barclay's report discovers that four in five businesses (83%) in the hospitality and leisure sector are planning to invest money in the next five years. 15% of the planned investments in the hospitality and leisure sector will be used to meet the needs of the over 65's.
Loyalty
The Barclay's report also shows that not only are the over 65's bigger spenders than younger generations, but they are also the most loyal customers. When asked, the over 65's are much more likely (41%) to mention a company that they are loyal to than younger ages groups such as 18-34 (19%).
The most important factors of loyalty changes within ages groups. For those aged 65 and over, they are level of service, value for money/price, while rewards programmes or incentives appeal more to younger age groups.
Menu
When it comes to menu and conceptual development, in order to appeal to over 65's you will need to be more flexible, and depending on your brand profile, you will need to understand how to exploit the growth in 'seniors' who prefer familiar food. 65 and overs are more aware of what they like and what they are less likely to choose when new dishes appear on the menu. To combat this the menu wording is very important as 60% of 65 and over said the menu description is the most important factor to encourage them to try new dishes.
For more information and daily updates on the hospitality and leisure sector please visit our Facebook and Twitter or sign up to our newsletter here. For further information on how Food Alert can give you expert advice on Health & Safety, Food Hygiene and Fire Safety email enquires@foodalert.com.