The Chartered Institute of Environmental Health (CIEH) has renewed its call for a mandatory food hygiene rating (FHR) scheme in England, which would enable consumers to make informed choices about where they eat and purchase food.
In Wales and Northern Ireland, mandatory schemes were introduced in November 2013 and October 2016 respectively, but the scheme remains voluntary in England.  As a result, only 55% of food businesses in England display their FHR, compared with 89% in Wales, and 87% in Northern Ireland.
Public support for the mandatory display of ratings has been consistently high, with 85% of respondents in England supporting such a change in the Food Standard Agency's (FSA) most recent survey of UK consumer attitudes.
This is supported by our Food Alert Hygiene Matters consumer survey, where a venue's FHR was in the top three of key decision drivers when choosing where to eat out or order food for delivery. Food Hygiene Ratings should be visible in venues, said respondents, with 4 being the minimum standard that was considered acceptable, but with newly opened venues the majority expected a rating of 5. Some 49% of consumers had a 'one strike and you're out' policy when it came to bad hygiene standards.
It was particularly relevant to the 18-34 year-old age group where they were 42% more likely to check Food Hygiene Ratings when visiting a hospitality venue than those in the 34-plus category. They were 84% more likely to check FHRs when ordering for delivery than those over 34 and they expected hospitality venues to be inspected more than twice as frequently as older consumers.
With this generation more likely to be 'rating aware' across various channels, from customer reviews to rating specific dishes, it gave venues an opportunity to use positive FHR scores to drive footfall. When ordering online, from Deliveroo and Just Eat for example, the FHR was more likely to be used as a sorting factor for venues above range of food and drink, delivery times and images of the food.
So, it makes business sense to be 'reaching for the stars' now and getting ahead of the game before it becomes mandatory to display your Food Hygiene Rating in England.
GUIDE TO 5 STAR FOOD HYGIENE RATING
Download for free
With hygiene being such an important part of our lives, customers are paying closer attention to food safety ratings than ever before. Achieving full marks is vital in order to attract and retain business.
This simple guide sets out how you can achieve the perfect 5 out of 5 Food Hygiene Rating (FHR) every time.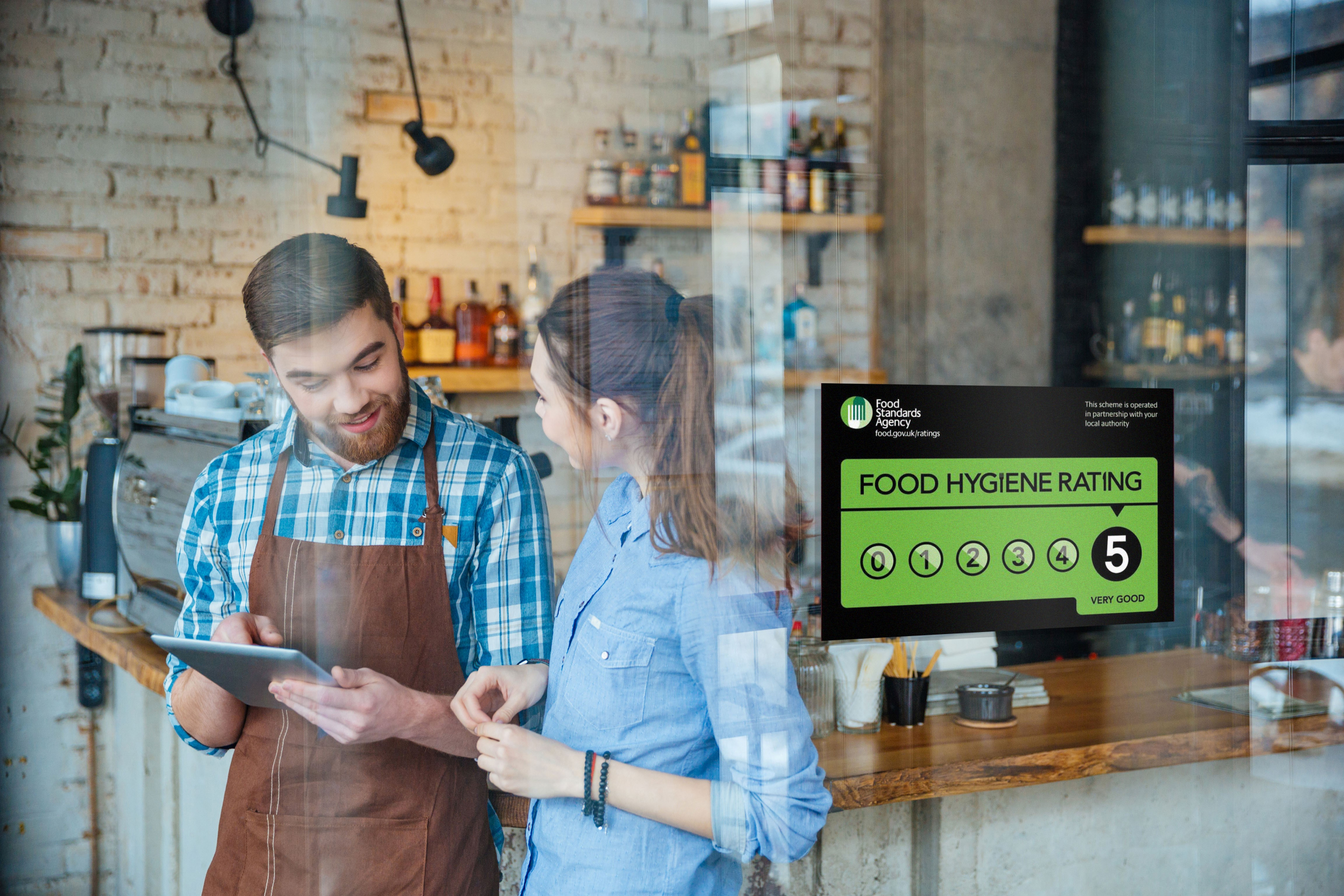 Pop your details in the form below to access your download
How Food Alert can help you achieve a 5 star Food Hygiene Rating
Our team of experts are carrying out hundreds of audits each day, helping our clients to maintain standards so that when the inspector calls they are in the best possible position to achieve the perfect Food Hygiene Rating score.
Check out our handy Five Star Hygiene Ratings guide for top tips and guidance on Food Hygiene Ratings and what it takes to get a top rating.
Alternatively, simply give us a call in 020 7244 1900 and our team will be happy to discuss your compliance needs. Or get in touch with us online and we'll call you back at a time that suits you.