Hazard Analysis and Critical Control Points (HACCP) is designed to ensure the food we sell to our customers is safe to eat.
Hazard Analysis and Critical Control Points (HACCP) is designed to ensure the food we sell to our customers is safe to eat.
It was originally introduced in the 1960s as a way to manufacture food for space flights.  But now, with its focus firmly on planet earth, the original three principles have evolved to seven HACCP standards.
It identifies what (and where) things can go wrong (the hazards) and where it is critical that we control them for food safety, for example, preventing contamination and food poisoning.
The implementation of a Food Safety Management System based on these principles is not a nice to have but is a legal requirement.
So, what are the seven HACCP principles?
Hazard Analysis; Prepare a flow diagram that identifies the hazards and control measur
Determine the Critical Control Points (CCPs)
Establish critical limits
Implement a monitoring system for each CCP
Establish corrective actions to be taken when a CCP is breached
Establish verification procedures to make sure the HACCP is working effectively
Establish records and documentation
Find out more about each HACCP principle:
The initial stage of HACCP.  This is where you identify what can cause the hazards and where they can come from.  There are four categories:
Physical such as glass contamination
Biological eg bacteria
Chemical eg cleaning product
Allergens eg nuts
Your business might not always have the skills or knowledge to perform a hazard analysis.  This is where seeking expert support, such as that provided by Food Alert, can help identify potential hazards – take a look at our HACCP support service.  But it's not just about identifying the hazard, consultants will also evaluate how big a risk that hazard is to your process and / or consumer.
The next step is to recognise the critical control points and how they can be used to control the hazard and make sure they don't cause harm.
2. Determine Critical Control Points (CCPs)
CCPs are points in the process at which you control the hazard to minimise, eliminate, or reduce its effect to a safe level.  They can be used to monitor any one single hazard, for example, making sure high-risk food is refrigerated at the correct temperature.
Again, a consultant such as Food Alert can help you determine your CCPs.
The next thing to do is to determine critical limits for each CCP. This is where the critical safety level is determined – for example, the maximum legal temperature of high-risk food in a fridge is 8°C. So, anything that exceeds this figure (or say falls below 5°C) will require corrective action.
4. Implement a monitoring system
Now your CCPs and critical limits have been determined, you need to decide how you are going to monitor them, so they don't breach safety levels – for example, daily fridge monitoring with a probe thermometer.  If there is a breach, then you must quickly address the problem and fix it!
5. Establish Corrective Actions
Once you've implemented monitoring procedures, you're ready to establish corrective actions.  These are the actions you need to carry out if a CCP exceeds its critical limit and prevents harmful products, such as contaminated food, reaching the consumer.  Using contaminated food as an example, a corrective action is to throw it out.
Corrective actions have two purposes:
To control any process deviations that happen due to loss of control
To find the cause and make sure it doesn't happen again
6. Establish verification procedures
Once you've implemented your HACCP plan, you need to make sure it stays effective in preventing potential hazards.  Evidence is key, so regular verification checks of your CCPs and monitoring equipment is vitally important.
7. Establish records and documentation
The final step of the HACCP plan is about determining which records you need to keep in order to show that the system is working as intended. Recording your findings in a digital format, such as Alert65, is a great way to make sure your data is recorded and easily accessible should the environmental health officer come calling or a customer complains of food poisoning.
A guide to HACCP
Download our FREE guide
Having a HACCP is a legal requirement for any food business. Our team of experts have put together all the things you need to know about HACCP and how to implement this into your business.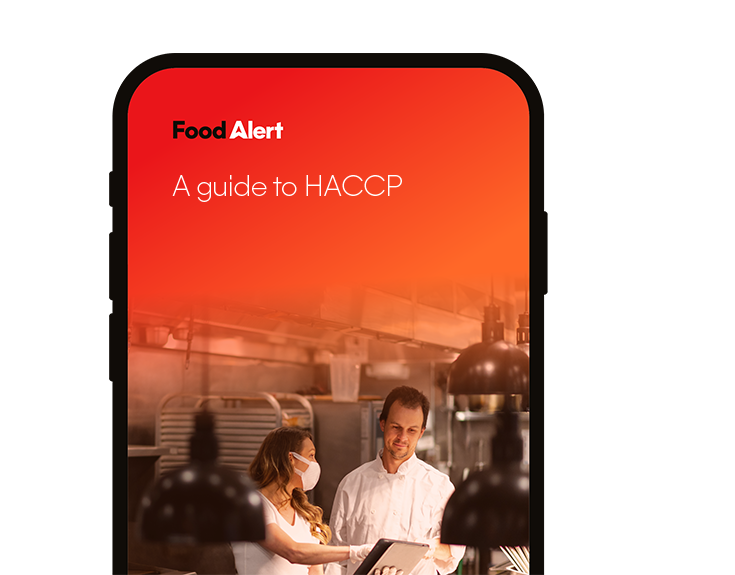 Pop your details in the form below to access your download
Implementing a HACCP system will make sure your business is not only compliant but that you are offering the very best (and safe) food and service.  You will be able to sleep well at night knowing that when an environmental health inspector comes knocking you can welcome them into your venue with confidence that you'll not only pass but with five stars!
If you would like help developing your HACCP, simply download our free guide. And if you'd like the backing of our expert team, give us a call on 020 7244 1900 or get in touch with us online and we'll call you back at a time that suits you.