Premier Foods* produced a guide earlier this year showing predictions of what would be popular menu choices for 2016. What do consumers look for when dinning out?
Eating Green
The food service industry is becoming more and more involved with reducing the waste of their kitchen. 42% of caterers interested in introducing sustainability initiatives or recyclable ingredients onto their menus.
Gluten Free
Last year saw a rise in demand for gluten-free dishes, and caterers are starting to capitalise on the trend. 31% of restaurants now feature gluten free menu options. A stark improvement on last year, and this number continues to rise!
Dishes from America
The demand for macaroni has soared this year, with its presence growing by an incredible 550%. The US inspired dish is frequently being featured as a main, side dish, and even as a topping for burgers and pizzas! Coleslaw has undergone a similar makeover, re-emerging as 'slaw on many menus with a variety of styles, including cranberry or chilli slaw.
Under the Sea
Fish and seafood dishes are overtaking beef dishes as the number two main course ordered when dining out of the home (pizza has remained number one). The rise in fish dishes has been driven by fish & chips, as well as the fact that fish is cheaper to source, inspiring caterers to feature it more on their menu.
To maintain sustainable fish stocks, and protect the marine environment, caterers are advised to diversify the fish on their menu. Replace cod with coley or pouting, and always check that you are buying from a certified as sustainable supplier. It is not only responsible, but favourable among consumers.
From Around the World
The UK is more willing than ever to experiment with new cuisines, with caterers experimenting with tapas and sharing platters (80%), Mexican dishes (72%).
Consumers are keen to see more Mediterranean (45%), Mexican (38%), and Thai (37%) dishes appearing on menus, alongside Turkish, Vietnamese and Sushi which also featured high on the list.
Embracing Fat
Consumers are becoming increasingly knowledgeable of the difference in good and bad fats. Being conscious of the various sources of fats is encouraging a paradigm shift for healthy eaters: fat content is not the first and foremost consideration in the search for healthy products. The importance of low salt and sugar content, and high fibre is beginning to grow in the minds of costumers.
Vegetarian
Although meat based mains remain the most frequently ordered dishes on menus, operators are beginning to see the increase in the number of vegetarian dishes on offer, as almost 30% of consumers are beginning to reduce the amount of meat they eat.
This change can be mostly attributed to the health benefits of cutting out meat, cited by over half of respondents (58%) during recent research. Other reasons included saving money (21%), animal welfare (20%), and concerns for food safety (19%).
It is great to see the increase in variety of dishes that 2016 has to offer. The key is for businesses to understand what these changes are in order to interpret and include them into their menus.
Effective menu planning and design is essential to ensure your business is capitalising on food trends while embedding principles that can save money and promote healthy and more sustainable food.
Food Alert offers a half-day training course on Principles of Menu Planning & Design at both our award-winning Training Centre in Central London or as an in-house course, at your own premises (subject to number of attendees). For more information, please visit www.foodalert.com or contact us at enquiries@foodalert.com
*Information gathered from 2016 report "Insights and Trends 2016" by Premier Foods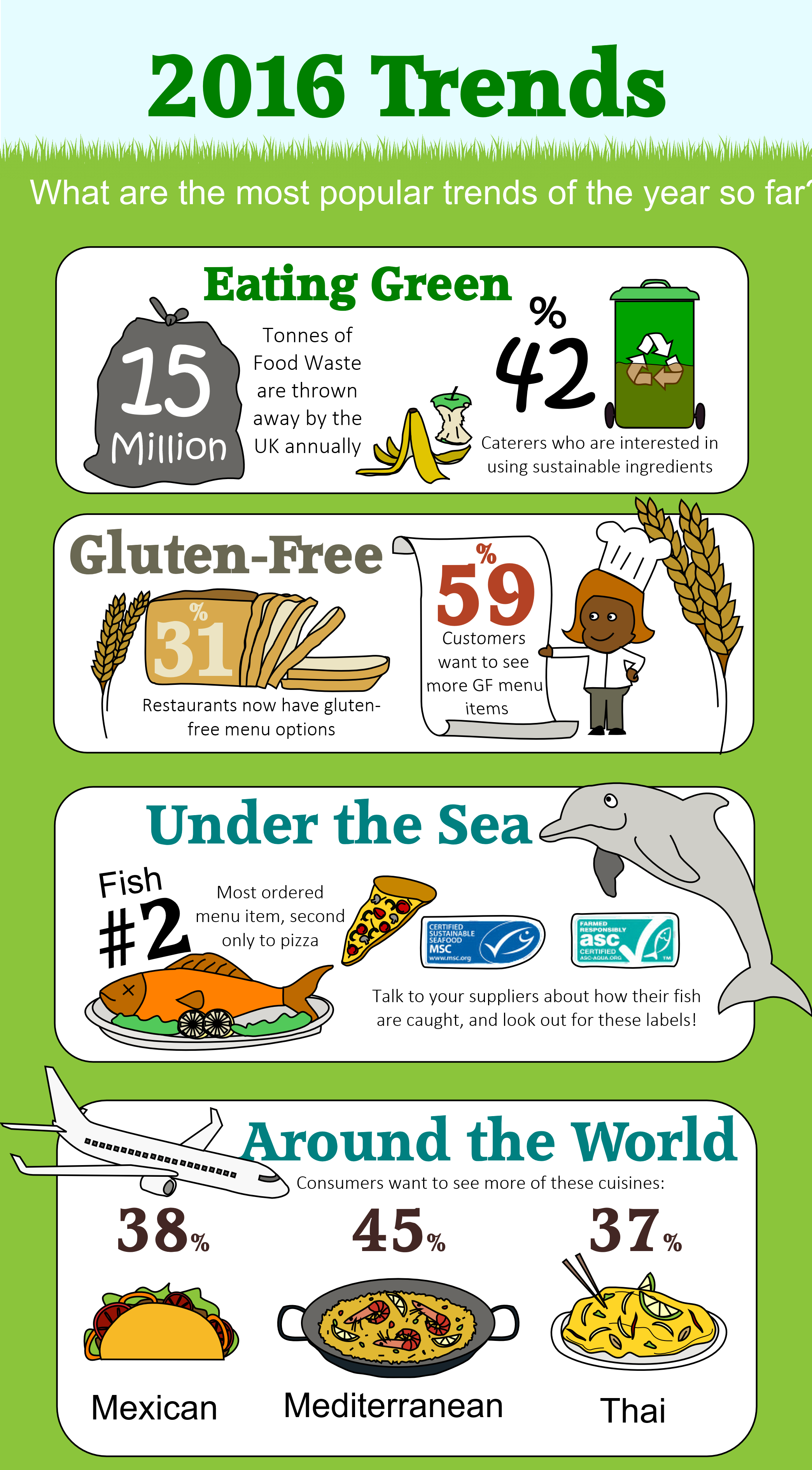 To find out more, visit the homepage or call us on 020 7244 1900.
The information contained in this article has been created for marketing purposes and is not official guidance and should not be used as a substitute for official food safety, health & safety nor fire safety advice.
Food Alert take no responsibility if the information in the article is used to form part of a safety management system or used to form part of any legal or regulatory compliance for your business. For official guidance and to engage with Food Alert services please do call our team on 020 7244 1900 or email enquiries@foodalert.com