Bring your compliance straight into the 21st Century with Alert65's Digital Document Centre. Drop the messy paper trail and keep all your vital safety documentation safe in one, easy-to-access digital platform.
Secure and cost-effective, you can upload and manage key documentation across devices, distribute them to your team by user and/or site and give yourself the peace of mind that if an incident happens, you've got everything to hand at the click of a button.
Upload, store and manage all of your key documents.

Digitally distribute by site or user with full control over who has access to what, plus easy version control.

Tag documents and folders so searching for what you need is extra simple.
Desktop & App Solution
Suitable for all hospitality business types, sizes and budgets.
Transform your business with smart technology that centralises and streamlines your everyday compliance.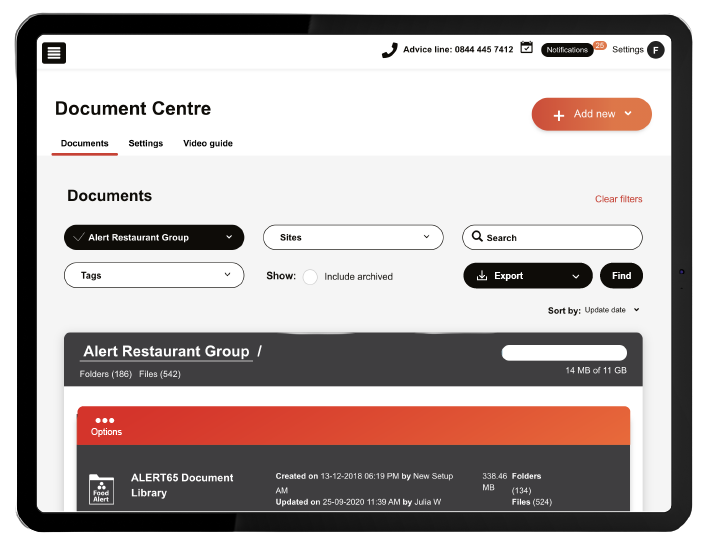 Pop your details in the form below to access your download
Discover how we can help your business
What does the Digital Document Centre do for my business?
Create and organise
Organise your documents by creating different folders, all with upload options for a variety of file types.
Easy version control
If you're updating a document, digital version control makes sure everyone is viewing the right edition.
Distribute by user or site
Make sure your team has access to the exact files they need – which is especially helpful if you have remote workers.
Secure storage
Close-based storage gives you peace of mind that your historic documents are secure and on-hand if they're needed against potential claims.
Tag for easy search
Tag documents and folders how you wish to save time and search for files more easily.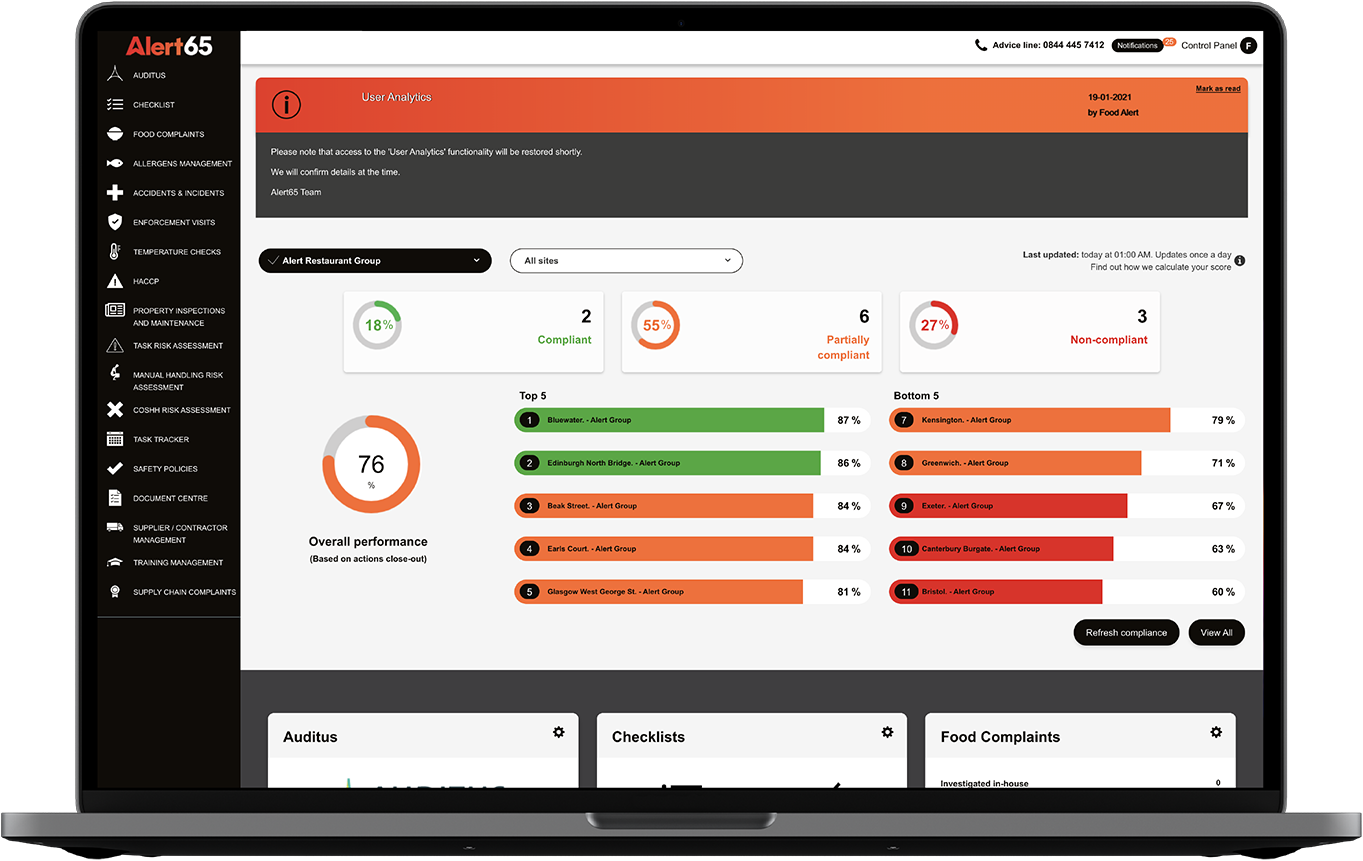 Software built to meet your business' demands
User-​friendly navigation
We've designed Alert65 to be as intuitive and easy-to-navigate as possible. Get your compliance in order in just a few simple clicks.
Customised to your needs
Alert65 can be customised to match your exact requirements, so the way you work doesn't need to change to suit the software – it's flexible to suit you, as standard.
Enhanced reporting
Generate your own custom reports and get the views of your business you need. The enhanced reporting features include a report scheduler and a customisable reporting dashboard.
Take a look at our other solutions
We know that no two hospitality businesses are the same. Alert65 can be built to suit the unique specifications of your business, so why not browse what other software solutions we have available to help boost your business.
Brands We Protect
Helping over 6,000 hospitality businesses take care of their food safety and health & safety compliance. From local cafés and bars to national and global restaurant and hotel chains, Food Alert is the hospitality industry's trusted partner of choice.